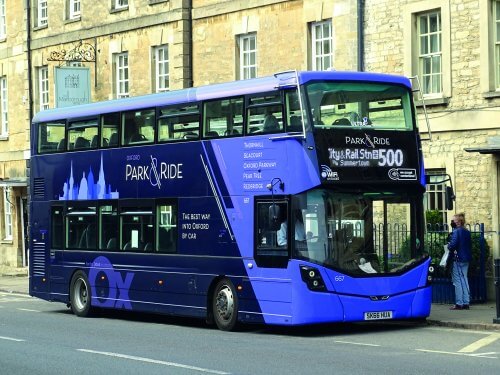 Oxford has taken a major step to reshape its network provision to address loss of patronage, decreasing funding and a driver shortage, in a sign of what might be to come elsewhere in the industry as it shapes up to a post-pandemic future
The result of a major review of Oxford's bus network, carried out to secure services in the face of an unprecedented set of challenges, has seen Oxfordshire County Council work with Oxford's main bus providers to look at service provision across the city. Prompted by lower than usual passenger numbers, reduced Government funding and a national shortage of driving staff, the review looked at how best to balance the available resources with the areas of greatest need.
As recommended in the Government's national bus strategy, the council worked with operators to identify opportunities for greater efficiencies through the reduction of unnecessary duplication, with the aim of placing the network on a more secure financial footing while minimising impact on passengers. The changes will come into effect in the new year. Councillor Tim Bearder, Oxfordshire County Council's Cabinet Member for Highway Management, said: "The bus companies have done astonishingly well to maintain services during these unprecedented times, but Government decisions and the pandemic have created a perfect storm and our local operators have had to act. They need to counter the reduction in Government funding, the impact of the Covid-19 pandemic on passenger numbers, and the challenging situation for recruitment of bus drivers.
"We are pleased to have been able to get the parties together to sort out a coordinated approach to tackle these issues facing the bus companies. Public transport is key to our plans to get more people out of their cars. That is why we need to first get the network on to a more secure financial footing while we try to secure £56 million from the Government's national bus strategy fund to improve services in the long term."
Operating area changes
Among the most significant changes will be a more integrated approach to services on the main radial corridors from north and south Oxford, with a single operator providing the principal bus services to Kidlington and Rose Hill.
This means that the Oxford Bus Company will no longer serve the large village of Kidlington and the Banbury Road on service 2, which is jointly operated with Stagecoach in Oxfordshire. Both of these locations have been served by City of Oxford Motor Services (Oxford Bus Company's current legal name, which was first registered in 1921) and its predecessor, the City of Oxford Tramways Company, since 1882, initially using horse-drawn trams as far as South Parade, Banbury Road before using motor buses from 1913. This corridor will be solely served by Stagecoach as the 2, 2A and 2B.
In addition, Oxford Bus Company will also cease to operate its Park & Ride 500 service from Oxford to Woodstock via Water Eaton park & ride site. This service has been operated by the company since the park & ride site opened in the early 2000s. For the last few years the 500 service has been extended beyond the the park & ride facility to serve Blenhiem Palace in Woodstock. Stagecoach will continue to operate its service 7 from Oxford to Woodstock, but the service will now call at the park & ride site to offer the same frequency as currently offered.
The combination of these two service changes mean that Oxford Bus Company will no longer serve the north-west quadrant of the county, although its service 6 which serves Wolvercote and runs parallel to Banbury Road will increase in frequency to every 15 minutes.
Oxford Bus Company's Thames Travel division's River Rapids services X39/X40 from Oxford to Reading, along with service 11 to Watlington, will move to Oxford Bus Company itself. The will be the first time the firm has operated into Reading itself since operating jointly with Reading Buses on the 105 service in the 1990s.
Another major change will see Stagecoach cease to serve the Rose Hill area on its joint service 3 with the Oxford Bus Company. Thames Transit (Stagecoach in Oxfordshire's legal identity) has served this estate since the late 1980s, when the company was formed and used Mellor-bodied Ford Transit minibuses under the Oxford Minibus name.
The large town of Abingdon, south of Oxford next to the A34, will also cease to be served by Stagecoach. Thames Transit purchased South Midland, the former country area of the City of Oxford Motor Services that had been sold off in at deregulation, in 1989. On acquisition, the company had depots in Grove and Wantage as it operated a large number of services in the area, these depots subsequently closed in the early days of operation, but in the years that followed Stagecoach had maintained a significant number of routes to the south of the county, but in more recent years this has been reduced to just three routes; the 34, S8 and S9. The 34 and S9 are to be withdrawn by Stagecoach and replaced by new a Thames Travel X1 between Oxford, Abingdon, Harwell Campus and Wantage. Stagecoach will continue to operate its S9 service between Oxford, Botley, Grove and Wantage with an increased frequency during the daytime, in the evenings and on Sundays, following significant housing development in the area and a tendering process overseen by the county council.
In addition, Stagecoach will cease to operate routes 12 and 16 between the city centre from Littlemore and Greater Leys, these being consolidated to provide a more sustainable level of service better matched to passenger numbers. Oxford Bus Company will operate a new 5A service every 30 minutes Monday to Saturday, and every 60 minutes on a Sunday.
Independent operator Whites Coaches' Didcot town services 91, 92 and 93 will also cease to operate. New Thames Travel services 91 and 92 will be introduced to provide a replacement for the majority of the withdrawn services on Monday to Friday daytimes.
Comment
Phil Southall, Managing Director of Oxford Bus Company, said: "We very much appreciate the proactive approach taken by Oxfordshire County Council in seeking to support operators to stabilise the bus network in the county in what continue to be very difficult times for the public transport industry. The changes announced will secure the future of many important routes and will also see several new journey possibilities opened up for bus users. Three in four bus users in Oxfordshire have now returned to travelling by bus after the Covid-19 restrictions have lifted, and we are looking forward to seeing more customers returning in the new year, as well as to welcoming new customers to our services in the near future."
Rachel Geliamassi, Managing Director of Stagecoach West, said: "We are encouraged to see more of our customers return, however we have to be realistic and address the effects that Covid-19 has had on how and when our customers travel into and around the city. Stagecoach is very much still in support of the Oxford SmartZone scheme to provide flexibility of ticket offering for customers. We have welcomed the opportunity to engage with Oxfordshire County Council to consider and agree alternative solutions to how we operate our routes. We will be sad to say goodbye to some of our most loyal customers and know that our drivers will be equally disappointed as they have been proud to serve our customers in the areas we will no longer be operating in."
A Department for Transport spokesperson told the BBC: "We've provided £1.5 billion in emergency funding for bus services outside of London, with £700,000 going directly to Oxfordshire County Council. Our ambitious National Bus Strategy, launched earlier this year, sets out ways of improving services and better connecting communities as we build back better from the pandemic."