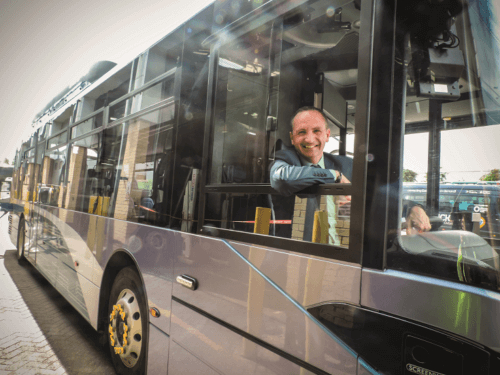 A fleet of 159 electric buses is set to serve Oxford and its surrounding areas after the city's bid for Government funding was approved
Oxfordshire County Council has been awarded £32.8 million from the Zero Emission Bus Regional Areas (ZEBRA) scheme. Along with £6m from the council itself and £43.7m from Stagecoach and Go-Ahead Group-owned Oxford Bus Company, the scheme will deliver the electric buses and the infrastructure to charge them in a package worth a total of £82.5m.
This funding will support plans to create a zero carbon transport network in Oxford, following updated proposals to introduce a city-wide workplace parking levy, traffic filters and a wider zero-emission zone.
Proposed new traffic filters are expected to help reduce bus journey times by at least 10%, with consultations on the plans set for the summer and a decision due in the autumn. The commitment from bus operators is dependent on reduced bus journey times, and the county council will receive its funding after its Cabinet has made a decision on the proposed traffic filters.
The new buses will be used on bus routes operating wholly within the Oxford Smart Zone and are expected to prevet an estimated 9,200 tonnes of carbon dioxide emissions each year. Bill Cotton, Oxfordshire County Council's Director for Environment and Place, said: "This is wonderful news for Oxfordshire and a major leap forward for transport decarbonisation and cleaner air in the county. Along with other transport schemes proposed in Oxford, this new fleet of electric buses will transform our public transport system and encourage more people to travel by bus.
Phil Southall, Managing Director of Oxford Bus Group said: "This is excellent news and a pivotal step in our collective aim to radically improve air quality in Oxford. Go-Ahead Group, Oxford Bus Company and Thames Travel have always been at the forefront of introducing sustainable low-carbon technology in the UK and Oxfordshire bus operators have committed £43m to the electric programme. However, to make a fleet transition financially viable we need to speed up bus journey times by 10%.
"We now look forward to the public consultation on transport and connectivity in Oxford this summer. We are committed to a zero-emission future, but the cost of delivery makes it critical we all work together to ensure it is delivered effectively. If this can be done, we can provide 159 electric buses in two years."
Rachel Geliamassi, Managing Director at Stagecoach West, said: "We welcome the announcement, which will complement the significant investment and initiatives by operators as we work together to transition to a zero-emission bus fleet and help the country achieve its net zero ambitions.
"Stagecoach has already started its journey towards our target of a fully zero-emission UK bus fleet by 2035, and there is also a major opportunity to deliver cleaner air by people switching to more sustainable public transport, cycling and walking. Britain's buses have an exciting future ahead, helping decarbonise the country, as well as driving economic recovery and levelling up our communities."
Of the 159 new electric buses, Oxford Bus Group will operate 104 and Stagecoach West 55.