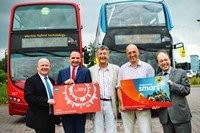 The Oxford SmartZone has celebrated its five year milestone.
Stagecoach in Oxfordshire, Oxford Bus Company and Thames Travel joined forces in July 2011 to create the SmartZone range of smartcard based tickets. At the same time the four busiest routes in the city, serving Blackbird Leys, Rose Hill, Kidlington, Barton and Risinghurst, were given coordinated timetables and the bus operators invested over £12m in new double-decker buses and the smartcard ticketing technology.
The aim was to enable passengers to jump on the first bus to come along, rather than wait for the bus company they had purchased their original ticket from.
Martin Sutton, Managing Director at Stagecoach in Oxfordshire, said: "Because SmartZone was one of the first smartcard, multi-operator, ticketing schemes to be introduced in England, there was a lot of focus on us to see whether it would work.
"We're thrilled to say it has improved bus travel in Oxford and encouraged more people to switch to buses as a greener, more affordable way to get around the city.
"Oxford is now used as a case study for other areas of the country looking to introduce similar schemes – it's great to say our city is leading in terms of bus travel."
Since the launch of the Oxford SmartZone concept, bus passenger numbers have increased by 5% per annum, 50 million passengers have taken journeys using the smartcard, 28% of smartcard users said they use the bus now more than they did before having a smartcard and 98% of smartcard users said they were satisfied with the scheme.
Phil Southall, Managing Director of Oxford Bus Company, said: "Oxford SmartZone has changed the way the UK approaches multi-operator ticketing. The people of Oxford can jump on the first bus that comes along, instead of waiting for one company, and 98% of customers are satisfied with the scheme.
"We've achieved this without the need for a complex revenue allocation system which means administration savings are passed onto our customers keeping prices close to that of individual operator tickets."
Cllr Ian Hudspeth, Leader of Oxfordshire County Council, said: "Smartzone has transformed the quality and offer of the Oxford bus network and encouraged the sustainable growth of bus use over the last five years and this is something that is being built on through the Oxford Transport Strategy.
"The county council has always been very keen to encourage bus use and make it as easy as possible for people to get where they are going by public transport. SmartZone has done this very well and I am delighted to see it reach its fifth birthday."