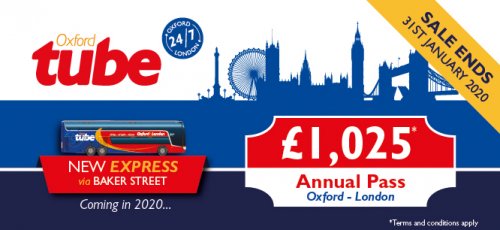 The Oxford Tube coach service, operated by Stagecoach in Oxfordshire, has announced details of its Winter sale which ends on 31 January.
The 24 hour coach service between Oxford and London, which operates every day of the year, is reducing its annual fare by £200 during the promotional period, bringing the price down to £1,025.
The promotion comes as Oxford Tube is about to launch improved services from 6 January, which includes:
12 new express journeys to Baker Street Monday to Friday;
Increase in capacity during peak times with over 160 more journeys each week; and
Frequent departures, up to eight minutes during peak periods.
The new timetable will see the Oxford Tube services rise to 1,120 journeys a week between Oxford and London, providing 90,720 seats to and from the capital.
Chris Coleman, Managing Director of the Stagecoach in Oxfordshire, said: "This is fantastic news for our existing customers, but is also a great welcome to new passengers choosing to travel on the Oxford Tube from the New Year, in light of reduced services and increasing train fares.
"Our new services to Baker Street will offer those who commute into central London a great alternative at an affordable price and our new enhanced timetable means we have more services than ever before. We are excited for the Oxford Tube in 2020 and hope that our customers can take advantage of this great offer."