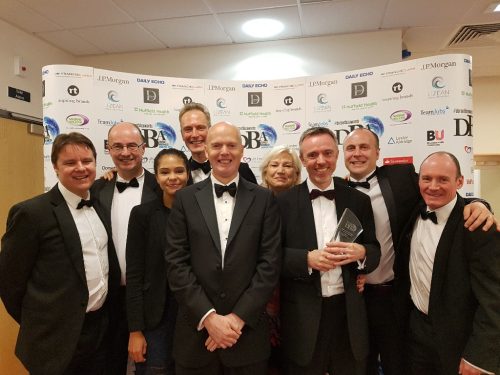 Parkeon Transportation has won a regional award in recognition of its leadership in ticketing technology and systems integration in multi-modal projects across the UK and around the world. The company, based in Poole, was named Company of the Year at the Dorset Business Awards in front of a 700-strong audience at a ceremony hosted by actress and comic Debra Stephenson.
Parkeon was judged on its ability to think strategically, to keep in touch with new developments in the transport sector and the wider economy and on its plans for future growth. In addition, judges were looking for a strong commitment to employees' needs and aspirations, as well as sustainable business practices.
Ian Girling, Chief Executive Officer of Dorset Chamber of Commerce and Industry, the awards' organiser, said: "To be in the running to be named Dorset's premier company, businesses needed to demonstrate an outstanding financial track record, with dedication to excellence in products and services and a dynamic approach to quality and innovation."
Owen Griffith, Managing Director of Parkeon Transportation, commented: "This accolade is a tribute to the fantastic work of our people who, day-in day-out, deliver innovative solutions both locally and all around the world.
"They are helping to make it easier, safer and quicker for people to use public transportation which, in turn, reduces congestion and improves the environment for all of us."