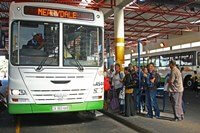 Principal bus operator in Western Cape, South Africa makes major investment in ticketing technology
SOUTH AFRICA Golden Arrow Bus Services (GABS), the principal bus operator in Western Cape, South Africa, has selected Parkeon's on-bus and back-office Wayfarer technology to help deliver ticketing for Cape Town and its metropolitan area. The deal includes 1,250 Wayfarer200 driver consoles, 62 fixed and mobile point-of-sale units, depot cashier and driver dispatching devices, and an integrated back office, depot management and administrative software solution.
GABS has run scheduled bus services in Cape Town for over 150 years, and today provides around 52m passenger journeys annually across 1,300 routes with 1,046 buses. In 2015, it became the largest bus operator in South Africa to achieve prestigious Road Transport Management System (RTMS) accreditation.
"The South African government has a vision to make public transport the heartbeat of the country's economic growth and social development," said Bronwen Dyke-Beyer, Public Relations Manager at Golden Arrow Bus Services. "Our investment in robust and advanced technology developed by Parkeon will help us deliver that vision for the people of Cape Town through current and future ticketing products."
As part of the project, Parkeon will provide contactless smartcard technology to replace the current 'Clip Card' single and multi-journey products at GABS points-of-sale, which will be validated via the Wayfarer200 console and viewable on a Parkeon inspection app. A web-based back office will manage on-bus and fixed location transactions, with a software suite providing a range of management reports.
"The Parkeon-Wayfarer product brand is well established in South Africa, and is built on a relationship with the country's public transport sector that goes back over 30 years," said Owen Griffith, Managing Director of Parkeon Transportation. "We are delighted that Golden Arrow Bus Services have chosen us as their partner and look forward to working closely with them to ensure they reap the full benefits that the new technology will bring."
The GABS success follows on from recent international project wins for Parkeon, including major multi-modal schemes in both Perth and Sydney in Australia.