New Yorkshire-built buses and new jobs have arrived – that's the good news arrived in York, as Transdev expanded its presence in the city.
A new long-term, multi-year partnership between the bus operator and City of York Council sees Transdev's locally based subsidiary York and Country take over five routes within the city.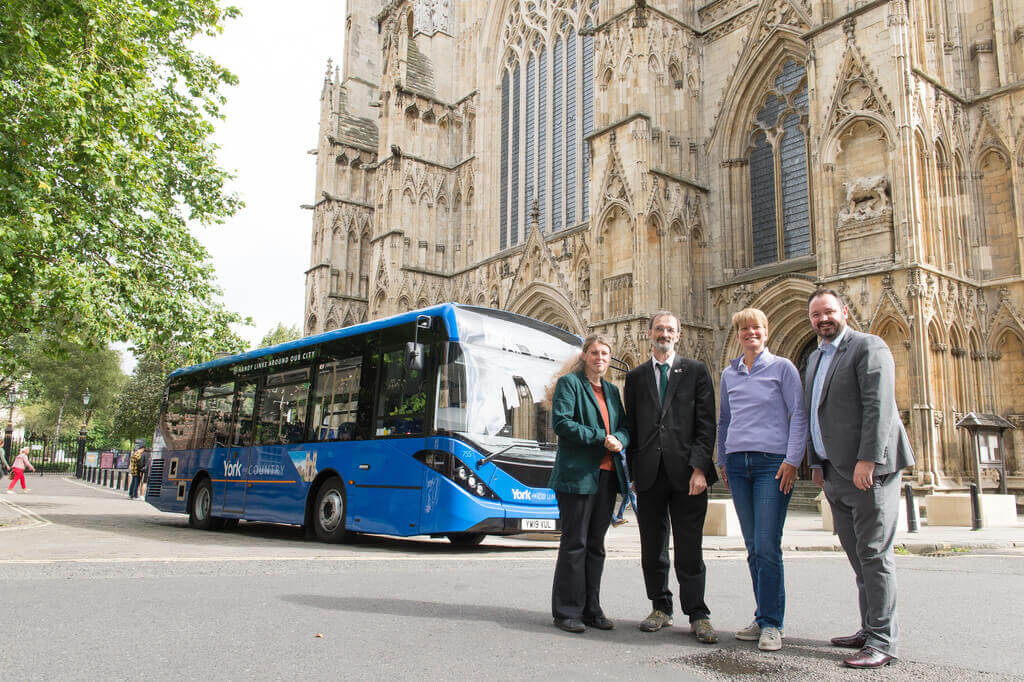 The new routes serve Acomb, Fulford, Derwenthorpe and South Bank – and the deal also means York and Country will run Saturday journeys serving Skelton, Rawcliffe and Burton Stone Lane, and evening buses to and from Foxwood and Haxby. It also sees the company continuing operation of the cross-city 20 route over the coming years.
To operate the new services, Transdev is investing nearly £700,000 in five brand new, low-emission Alexander Dennis Enviro200 single-deck buses for its York and Country fleet.
The new buses are being built in Scarborough, and each will be filled with customer-friendly features to make travelling a pleasure.
The bus operator is also expanding its team of drivers at its York depot, as the partnership means a significant increase in its presence in the city.
Transdev's CEO Alex Hornby said: "We are so proud to be launching this new long-term partnership with City of York Council and the good news this means for local jobs, better buses and improved connectivity. Our customers can look forward to travelling on new buses proudly built in North Yorkshire, with many features designed to make travel easier and more enjoyable.
"Each new bus has a bright and spacious interior with low-floor easy access, visual and audible next stop announcements and the latest, modern comfortable seating. They're also more environmentally friendly, thanks to the latest low emission engine technology.
"The new services mean we are significantly expanding our presence in York, and we'll be adding to our friendly team of drivers based in the city. We're delighted to be working closely with City of York Council to deliver a high quality bus product that the city deserves, and we're very much looking forward to welcoming our new customers."
City of York Council's Executive Member for Transport, Councillor Andy D'Agorne, said: "This exciting new partnership between the Council and Transdev will deliver a high-quality service for our city, using brand-new Yorkshire built buses.
"Through our successful i-Travel York programme, set up with funding from the Department for Transport's Local Sustainable Transport Fund, we aim to inspire people in York to help look after our city by making sustainable travel choices.
"The new buses which our partnership will bring to our city will feature up-to-the-minute low emissions technology to keep York's air cleaner, as well as providing a reliable and comfortable alternative to driving."
The routes which are being operated by York and Country are:
Service 24: Acomb – Holgate – City Centre;
Service 25: Fulford – Broadway – City Centre – Foss Islands – Derwenthorpe; and
Service 26: Fulford – Broadway – City Centre – Bishopthorpe Road – South Bank.
York and Country will also be operating all evening journeys on Service 14: Foxwood – City Centre – Haxby and all Saturday journeys on Service 19: Skelton – Rawcliffe – Burton Stone Lane – City Centre.
A full range of money-saving bus tickets will be available to buy and use on the newly added York routes, including day, weekly and monthly tickets covering all Transdev services in the City of York, and further afield including Leeds and the Yorkshire Coast on Coastliner – Britain's Most Scenic Bus Route.
Read more news at: cbwmagazine.com/category/news