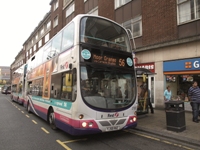 First West Yorkshire has seen an encouraging increase in passenger numbers on two key routes in Leeds.
In May this year, First carried out some service changes to its number 56 service (Whinmoor – Leeds – Moor Grange) and Service 6 (Leeds – Holt Park).
Service 56 had its frequency increased to every eight minutes (from ten minutes) Monday to Friday daytime, along with additional buses on weekends and evenings.
Service 6 was also given extra buses on a Sunday (a bus every 20 minutes from 30 minutes) plus extra journeys on weekday evenings.
The latest customer figures show the number of people using the two services, popular with commuters, leisure users and students, has increased. At least 5% more people used each service in the past five months than in the equivalent period of the previous year.
Dave Alexander, regional managing director for First in the North of England, said: "I am delighted we have seen this encouraging passenger growth on two key routes in Leeds.
"This is a welcome boost for First in its efforts to stimulate growth across its Leeds bus networks, as well as a real positive sign for the Leeds economy where more people are travelling to and from Leeds.
"I am sure our customers appreciate the extra choice we are giving them by increasing the frequency of our buses. We believe this offers car users in the area a very real alternative form of transport, especially in terms of price and frequency."