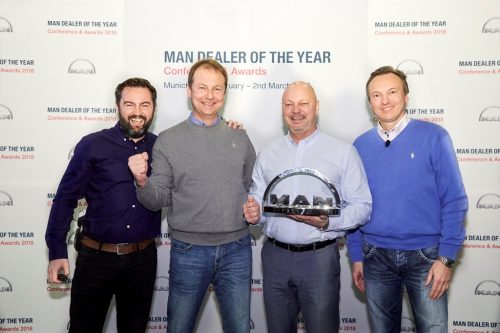 Pelican Engineering Group, owner of Pelican Bus & Coach, recently picked up two awards – recognising the company's achievements in 2017.
Pelican DAF was named DAF Service Dealer of the Year at a Manchester event, while MAN awarded sister company Pelican Engineering MAN its Large Dealer of the Year title.
Last year, Pelican DAF prepared and submitted 680 vehicles for MOT tests – achieving a 100% pass rate.
Richard Crump, Group Managing Director, said: "To win either of these awards is a major achievement, especially when you consider the very high standards of all dealers in both networks.
"To win both in the same year is almost unheard of. It's a testament to the superb team of people we have working in both dealerships and across the Group."
Chris Murrell, After Sales Manager at Pelican Group, added: "This is recognition of service levels we have refined over 99 years in the truck business that carry over to set the standards for the service we give to our bus and coach customers.
"Whilst coach operators primarily associate us with Yutong, our MAN dealership works closely with the Neoplan sales team and offers full service and parts support to any MAN or Neoplan user.
"Pelican DAF is able to work on any DAF-powered coach regardless of brand. Our ability to respond to customer needs, whilst working 24/7 362 days per year illustrates our total commitment to all of our customers, be they truck, bus or coach operators."