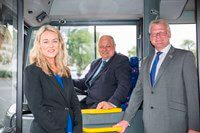 Perryman's Buses of Berwick-Upon-Tweed has introduced a number of new and enhanced bus routes, which went live on Monday, August 15, 2016.
The new routes, which serve Hawick, Selkirk and Galashiels, are being delivered by dedicated drivers in new route-branded vehicles, which represent an investment of approximately £500,000 in four new 33-seater ADL Enviro200s.
In addition to the new routes, Perryman's Buses has enhanced its service 253, Berwick-Upon-Tweed to Edinburgh via Dunbar and Haddington route. The operator has invested in new vehicles, with the service operating on an hourly basis.
A £600,000 fleet of vehicles will serve the new route from October, which will include free WiFi and USB charging points. CBW understands that the vehicles used on the 253 will include four new Optare Metrocitys, which will run alongside a pair of 2015 ADL Enviro300s.
The new services are:
Service H1 and H2 to Hawick Town Centre. Both services operate on an hourly frequency;
Service 73 from Selkirk Bannerfield to Galashiels. This is an hourly during the day (Monday to Saturday) with an extra morning journey connecting with the Borders Railway at Galashiels.
Nicola Morrison, Deputy Managing Director of Perryman's Buses' parent company West Coast Motors, said: "The response to our arrival has been terrific and we look forward to delivering safe, reliable, affordable and greener travel to our customers in the Borders.
"The long term success of the routes ultimately depends on residents using the services.
"To safeguard the buses – as best we can –  and to ensure we meet local travel requirements, we shall work closely with the Scottish Borders Council and will welcome all feedback."
On the 253 upgrade, Nicola added:  "Service 253 offers existing and new commuting customers an improved, affordable and reliable travel experience between Dunbar, Haddington and Edinburgh.
"In October we shall introduce a new fleet of buses to the route, which will be tailored to suit both commuting and long distance travel.
"We hope our investment plays a valuable part in further improving the attractiveness of bus travel and encourage more commuters out of cars."