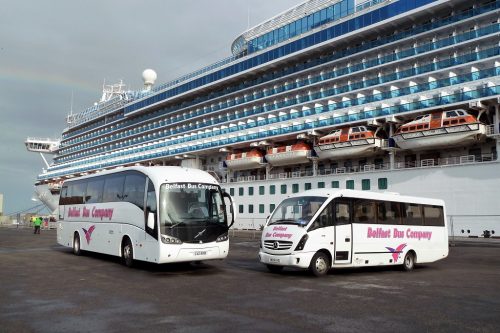 Belfast Bus Company was founded in 1999 by Eric Moore. The family-run business is one of the largest private hire companies in Belfast, with 50 vehicles in its fleet. Transport Manager Robert Thompson, Purchasing Manager David Moore and Marketing Manager Martin Beagan met with Elizabeth Howlett to tell her about its operations and plans for the future
"You will be able to recognise us by our pink ties," said Robert Thompson, Transport Manager at Belfast Bus Company (BBC). I had called him the day before my flight to Belfast International to arrange our meeting, as he had very generously offered to collect me.
We soon found one another and made our way to the pick-up point, where a BBC minibus was waiting. Robert introduced the driver as Elizabeth which provoked a few giggles. We set off to a petrol station a few hundred yards away from the airport, where David Moore was waiting to take us to lunch.
During our bite to eat we discussed our favourite comedians and shared funny stories about our families. I honestly didn't feel like I was at work, but that I was meeting up with old friends for a catch-up. We arrived at the Dargan Road based-depot in Bayview Industrial Estate and I was met with an array of uniform white Mercedes-Benz minibuses as well as buses and double-deckers, complete with the pink BBC logo.
From Ulsterbus to Belfast Bus
Founded in 1999 by Eric Moore who formerly ran Moores Coaches, BBC is a close-knit family-run company. Eric's children each have senior roles within the company. His daughter, Tammy-Ann, is Company Secretary and his son, Eric-Travis, is a Director.
Robert Thompson previously worked at Ulsterbus and held various roles within the company before working for BBC as its Transport Manager. He has been working in the bus and coach industry for 39 years as of December this year. With his wealth of experience, I was keen to find out his history, what his role entails and what the company's plans are for the future.
"I really do love it here at Belfast Bus Company," said Robert. "It is a family-run business that has been going 20 years. There is a fleet of 50 buses; we have 14 office staff; three mechanics and approximately 70 full-time, part-time and casual drivers. The relationships between the staff are great, and the Moore family are such kind generous people."
Robert's interest in buses stemmed from his uncle who was a bus driver. "I was fascinated by buses, as I imagine most young guys are. I was very comfortable around the vehicles and more generally in a bus environment.
"I joined the state-owned bus company, the Ulster Transport Authority (UTA), as a bookings clerk and when I turned 21 I was able to start learning how to drive a bus. If I passed my test it meant that I could work weekends as a driver. I passed my test in a Leyland Tiger which saw me working all week as a booking clerk and driving the buses on my weekends.
"I was thrilled when I was offered a chance to drive full-time as I enjoyed the work so much. It was mostly stage carriage work and picking up school children. When the state-owned company became Translink, I got the chance to work as a driver for Ulsterbus Tours and did that for a number of years. I was then promoted to the role of inspector at Ulsterbus Tours."
Robert's experience within Ulsterbus didn't go unnoticed as he was offered an opportunity by managing director Werner Heubeck to run Ulserbus' minibus operations. "The legendary Werner Heubeck had the idea of[…]
What you get with a subscription
Operator & Supplier Profiles
Face-to-Face Interviews
Lastest News
Test Drives and Reviews
Legal Updates
Route Focus
Industry Insider Opinions
Passenger Perspective
Vehicle Launches
and much more!