HM The Queen's Platinum Jubilee parade was without doubt the most prestigious event ever to involve heritage buses. NICK LARKIN talks to the people who made it possible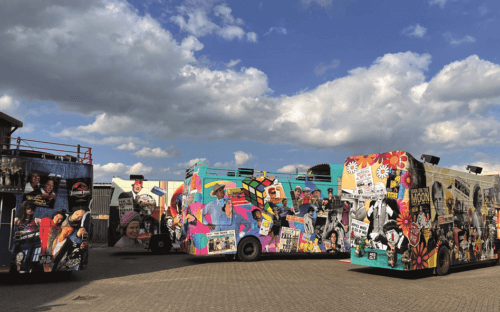 Many millions of people watched seven classic buses and an incredible passenger line-up make its way through central London. The vehicles were, of course, carrying 'national treasures' as part of HM the Queen's Platinum Jubilee parade, which was beamed across the world. Each bus represented a decade from her 70-year reign, from the 1950s to 2010s, and was wrapped in appropriate style. Celebrity passengers, 200 in all, from Sir Cliff Richard to Craig Charles, Holly Willoughby, Valerie Singleton and Alan Titchmarch, travelled on the most appropriate bus age-wise.
The vehicles came from a variety of operators. All traversed the Mall and Horse Guards Parade without incident, proceeding in the company of dancers, horses, and classic cars – including 'Dames in Jags,' not least Joan Collins. But how was the bus side of the parade organised, and how do participants feel about taking part in such a unique and prestigious event? "It was one of the great moments of my life," said Keith Stanton of Stoke-on-Trent based operator Stantons. Keith
drove his 1968 East Lancsbodied Leyland PD2 open topper JTF 218F, new to Darwen Corporation in
1968. "We were so pleased to be chosen. As we passed through Admiralty Arch we were told a billion people were watching, which did focus the mind!"
Buses made the journey at walking pace, dropping their celebrity guests off at Buckingham Palace. Keith revealed that though the PD2 performed faultlessly on parade a brake valve problem was being rectified in the early hours of the morning by star PCV mechanic Tim Barrington. "Tim saved the day," said Keith, who had always wanted a St Helens fronted Leyland PD since his early days in Blackpool.
JTF 218F had become a driver trainer/tree lopper with Kelvin Scottish and later worked for Mac Tours in Edinburgh, later passing to Darwen Group when it took over East Lancs. Keith acquired the bus via Ensign in 2005. He now describes it as "a pet used for selective private hires."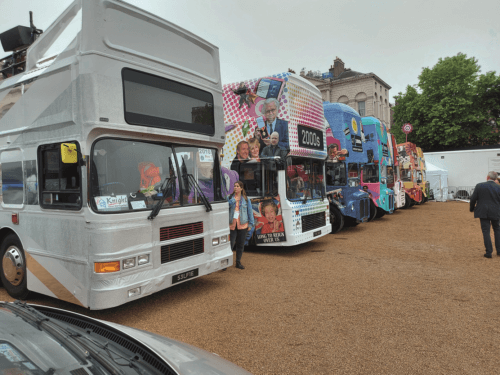 Two AEC Routemasters from London-based Premium Coaches, ALD 979B and NML 261E, were also used. The vehicles were brought together by Ilkeston, Derbyshire-based Knight Vehicle Management,
which provides transport solutions for top sports teams and musicians throughout the country. "It was an absolute privilege to be able to provide the buses for this incredible event," said Director Tony Knight. "We were contacted by the Jubilee Committee in March. There was one problem – a lack of open top double-deckers with the Epsom Derby taking place, but thankfully we've got lots of contacts. We are delighted at how things went."
A spare bus had been provided in case of breakdowns and the procession route carefully checked for potentially hazardous low hanging trees. Knight used its own Alexander-bodied Volvo Olympian, P411 SWC, new in 1996 to Dublin Bus as 96 D 319 and later running with Warrington Borough Transport. This bus was crewed for the pageant by husband and wife team Lee and Tory Chapman of Leicester family-owned operator Orbit Coaches. Said Tory: "We were delighted when Tony from Knight Vehicle Management contacted us. It really was the most surreal experience. We had celebrities on board including Nicole Scherzinger, Rylan Clark and Holly Willoughby partying upstairs and they were all lovely. It was a great atmosphere."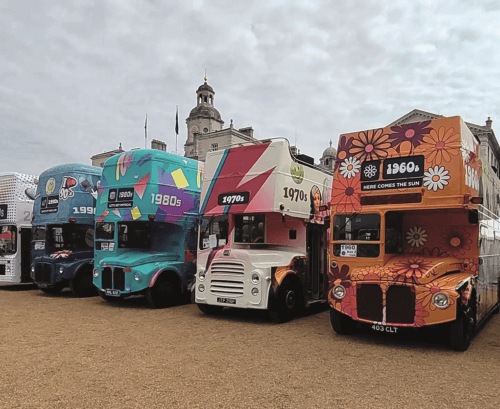 The buses were taken to a secure police storage compound a week before the event, and several security checks were carried out on both vehicles and people. Norfolk-based Awayadays provided two vehicles for the event; WNO 479, a Bristol K owned by the 2383 Preservation Group and used as the 1950s bus, and, representing the 2000s was new to Kentish Bus Northern Counties-bodied Leyland Olympian G520 VBB. David McMaster at Awayadays said: "It was lovely to be involved, and quite a thing for a small operator."
Four drivers, John Stewart, Ivan Fisher, Richard Dixon and Duncan Law, took part. David added: "I had to hold the fort and run our Norwich tour but it was amazing to see the buses on TV."
Vehicle vinyls were provided and fitted by London-based Wrap Cube. Director Simon Paskell said: "With seven buses and some lorries to wrap it was quite an intense effort, but we were finished by the Thursday. We were proud to be involved. All the vinyls were removed from vehicles immediately after the event."
The 1960s procession bus, AEC Routemaster 403 CLT (RM1403) is owned by David Cooper from Northampton, who worked as a driver for various operators, including Jeffs, before setting up Towcester-based A Route 2 Hire, of which he was at the helm until recently. "Attending the procession was a great and unrepeatable experience," he said. Wife Sue, who carried out 'conductress' duties in the procession was 'absolutely in awe.'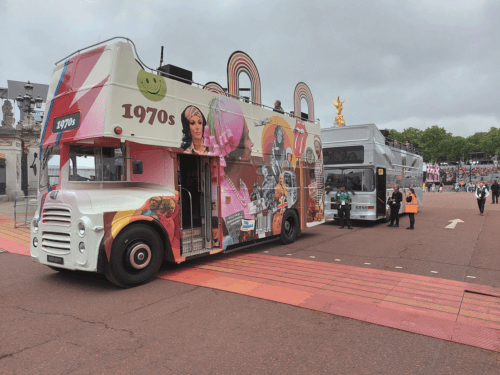 Procession buses
1950s: WNO 479, a 1953 Bristol KSW new to Eastern National, now owned by the 2383 Preservation Group.
1960s: 403 CLT, 1963 AEC Routemaster/Park Royal RM1403, new to London Transport and now owned by David Cooper.
1970s: JTF 218F, a 1968 Leyland PD2/East Lancs new to Darwen Corporation, now with Stantons of Stoke.
1980s: NML 621E, 1967 AEC Routemaster RM2621, now owned by Prestige, London.
1990s: ALD 979B, 1964 AEC Routemaster RM 1979 new to London Transport, now with Prestige, London.
2000s: G520 VBB, a 1990 Northern Counties Leyland Olympian new to Kentish Bus, now with Awayadays.
2010s: P411 SWC, a 1996 Alexander-bodied Volvo Olympian, new to Dublin Bus as 96 D 319, now with Knight Vehicle Management.