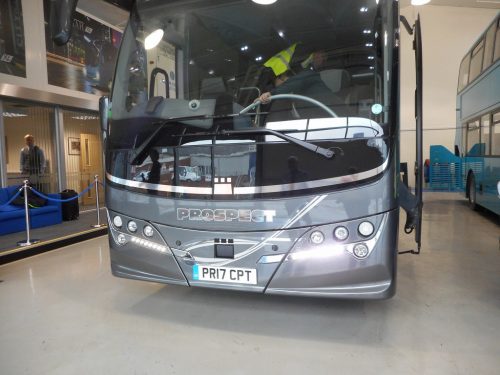 Prospect Coaches has taken delivery of a Plaxton Elite-bodied Volvo B11R Euro 6 vehicle with the registration plate PR17 CPT. It is the first of three 2017 fleet additions, to be followed by two further Plaxton-bodied Euro 6 vehicles.
A number of the vehicles in the Prospect fleet have registration plates named after family and friends, and this latest vehicle bears the registration plate marking Prospect's nine years of CPT membership.
Attending the event at the Plaxton plant in Scarborough were Prospect Coaches Managing Director Ros Hadley, Ian Hadley and General Manager Nathan Hadley, along with CPT Head of Public Affairs, Pauline Gaunt and Coaching Manager, Andy Warrender.
Ros Hadley, Director of Prospect Coaches, said: "It has become something of a tradition that we 'name' our vehicles after family and friends.
"CPT has always given us great service and we find the help and support we receive invaluable. We regard the CPT team as true friends to our company so we felt it was a fitting tribute to name our latest acquisition after our trade body.
"The new Elite joins its sister Elite, which carries Ros in its registration plate. All our new vehicles have Alcolocks, CCTV, WiFi and many other extras fitted as standard."
Mark Ballan, Commercial Manager – Coach of Alexander Dennis, said: "It is a delight that Prospect Coaches has returned to the flagship Plaxton Elite for their new coach and as CPT members ourselves, we are particularly proud to see it carry the CPT name. It will undoubtedly be a striking addition to the Prospect Coaches fleet and a fantastic advertisement for all involved thanks to its sheer visual presence.
Pauline Gaunt, CPT's Head of Public Affairs, said: "It is a huge honour that Ros and Nathan decided to name a vehicle after CPT.
"Ros and her team are very supportive of CPT and are highly valued members. As with any trade body, members need to engage to get the most out of their membership. Ros and Nathan do just that. They get involved with CPT at both a national and regional level, and as a result make a real contribution to the work of the organisation."