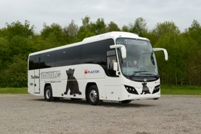 Plaxton's latest addition to the Panther family, the 10.8m Panther Cub, is now available for customer viewing. The bodybuilder says the new vehicle has already attracted significant interest from customers across the UK and even beyond.
The first orders have been received including one for Matthews Coaches in Ireland, a customer who has built up an established Plaxton fleet in recent years including examples of Panther and Elite.
The new model is a development of the Panther range and shares much commonality with its longer siblings, including the proven and durable stainless-steel frame and established Volvo B9R running gear, powered by Volvo's 380bhp 9-litre engine and I-Shift transmission. Seating configurations allow up to 45 passengers or slightly less where toilets and serveries are specified. With an unladen weight less than 11.5t, the payload capacity is a full 3000kg.
"This is a segment of the market we have been monitoring for some time and we knew there was a demand there," said Alexander Dennis/ Plaxton Director of Business Development, Kevin Wood. "But the reception the Panther Cub has received so far has surpassed even our own expectations. Comfort, interior and locker space and standard of drive have all been areas particularly complimented and the overall package is seen as representing good value for money."
Plaxton offers a comprehensive range of coaches from the 29-seat Cheetah through a choice of twoand three-axle Panther and Elite models in lengths of up to 15m. The biggest coach is the recentlylaunched Elite i, a 15m interdeck coach with up to 75 seats.
Customers who are interested in seeing the Panther Cub, or any of the models in the Plaxton range, should contact their local Area Sales Manager or Plaxton Coach Sales Centre at Anston – 01909 551166 – [email protected]