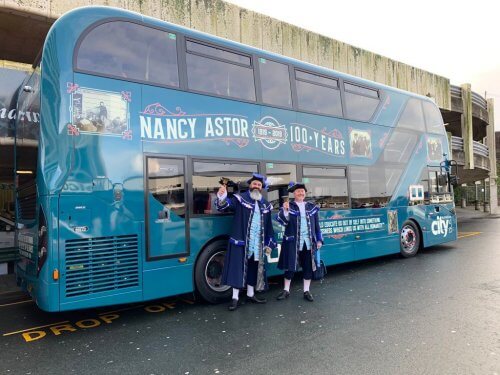 2,200 Plymouth school children travelled for free across the Plymouth Citybus network on the day
Go-Ahead Group-owned Plymouth Citybus helped celebrate 100 years since Plymouth's Nancy Astor became the first female MP.
The uniquely wrapped bus transported VIP guests to the Nancy Astor statue unveiling, which was led by former Prime Minister Theresa May.
To mark the occasion, and celebrate the city's future generation, Plymouth Citybus offered free travel all day across Plymouth for children in school uniform – with 2,200 taking advantage of the offer.
The bus will now travel across the Plymouth Citybus network as a reminder of her achievements and the role she played in the city's history.
Richard Stevens, Managing Director of Citybus, said: "We're honoured to play our part in such an historic occasion right here in Plymouth.
"Our city has had 96 years of female representation in Parliament since Nancy took her seat a century ago, which is truly amazing."