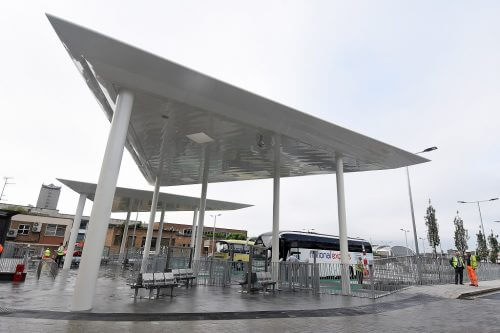 Station is recognised for having good security and facilities and successfully passes two assessments to receive the award
The British Parking Association has awarded accreditation for safe bus stations for several years, but has now launched a new accreditation for long-distance scheduled coach services, which Plymouth's new coach station is the first to receive.The £4.8m coach station opened to passengers last September with seven bays, electronic passenger information, sail-like steel canopies to provide shelter, an internal heated waiting area, toilets, a staffed ticket office, ticket vending machines, cycle stand, CCTV, a customer help point, a taxi drop off zone and extensive landscaping. The site also works as a satellite tourist information centre, with maps, leaflet racks and onward travel information for buses, rail and ferries.
As well as the CCTV cameras, there are regular patrols by security guards at all hours.
The accreditation system is based on two assessments – a face-to-face customer survey to find out how safe people felt both during the day and out-of-hours and a detailed audit of systems and procedures in place.
Cllr Patrick Nicholson, Deputy Leader and Cabinet Member for Strategic Transport, Housing and Planning, said: "We are really proud of this accreditation and it is particularly gratifying to hear that people who use this coach station at all hours of the day and night feel safe."
The coach station is operated by National Express. Megabus and SW Falcon also run scheduled services from it. It replaces the old Bretonside bus station, which is being demolished as part of a multi-million pound leisure development by British Land.
National Express Coach Managing Director, Chris Hardy, said: "We are delighted to be awarded this accreditation which is a tribute to the work we and our partners at Plymouth Council have put in to provide the best possible experience for people travelling by coach.
"Safety is National Express's number one priority and we regularly review our stations to improve facilities for waiting passengers, such as CCTV, lighting and security patrols to ensure our customers and visitors feel safe."
Chas Cannon, Senior Area Manager at British Parking Association, explained: "I am delighted that National Express and the council have achieved the first Safer Coach Station Award as part of the Safer Bus Station scheme.
"I very much look forward to working with National Express to help them achieve further awards at other bus stations across the UK. This is a relatively new scheme, but as we are encouraged to use more public transport and the fact that we are moving towards more interconnected transport networks, the time was right to extend crime prevention schemes into these areas."
The coach station has also been shortlisted for the National Transport Awards 2017, in the project of the year category.