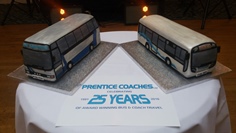 Prentice Coaches of Haddington near Edinburgh has celebrated its 25th anniversary.
The company started with one coach in 1991. Don Prentice had been working for Ian Glass for many years, before he found himself working for Lowland Scottish when Ian sold his business to them. As Don was used to working for a family business, he quickly decided that this was not for him and Don Prentice Coaches was born. The company later incorporated as Prentice Coaches Ltd in 2009.
After a quarter of a century, the operator now runs 20 buses and coaches, ranging in size from 24 to 70-seaters.
On June 1, 1991, Prentice took a group to Blackpool. On the day of its anniversary, the operator transported groups throughout Edinburgh and the Lothian's, while also carrying over 500 passengers on service routes and take children to school in Edinburgh, Haddington, North Berwick, Prestonpans, Musselburgh and Gifford.
The company has been honoured by Mid and East Lothian Chamber of Commerce, winning 'Best Family Business 2013' and was runner up in the 'Business of the Year' category at the inaugural Scottish Chamber of Commerce Awards in 2014.
This year, Prentice Coaches' '111-122 Connecting East Lothian to Edinburgh Infirmary' was one of four routes shortlisted for 'Best Bus Service' at the Scottish Transport Awards. The route was launched just over a year ago after Prentice won the contract issued by East Lothian Council. In that time, passenger numbers have more than doubled and more daily journeys have been added, with the route being expanded to three vehicles running daily.
The route is operated with Alexander Dennis Enviro200 buses, which were all bought brand new within the last eight months.
Ross Prentice, Managing Director, told CBW: "We've been very busy, but we did find time to have a party of Saturday, June 25, to celebrate the occasion.
"We've achieved far more than we ever dreamed of when we started the business."