New proposals developed through extensive engagement between Stagecoach and senior TfGM officials have the potential to make up to £25m in potential taxpayer savings by bus operators operating socially necessary services without subsidy. It is also proposing to use a single bus brand throughout one integrated bus network
Radical new alternative proposals for Greater Manchester's bus network published on 25 February would see bus company profits shared with the region's transport authority to further improve services.
In addition, a total of £142m would be invested by Stagecoach in a package of improvements to deliver a step-change in the region's bus network, providing improved connectivity, cleaner air, better value for taxpayers and a stronger economy.
Under the new plans proposed by Stagecoach, bus company profits above an agreed benchmark would be shared equally between Greater Manchester Combined Authority (GMCA), the bus operator and a new Partnership Investment Fund.
The new Partnership Investment Fund would see a third of money ring-fenced for Transport for Greater Manchester (TfGM) to spend on improvements across the whole of the region, and the remaining two-thirds allocated to initiatives specifically in South Manchester, such as new routes or bus priority schemes.
Local taxpayers would benefit from up to £25m in savings by Stagecoach and potentially other bus operators no longer being paid to run uneconomic socially-necessary bus routes and instead operating them commercially without any subsidy.
Stagecoach's proposals would also deliver London-style price-capped fares, guaranteeing customers the cheapest travel for the journeys they make.
A simpler and more integrated public transport network would be delivered through a unified brand for all bus services in the region. Accessibility would also be enhanced with 'talking bus' next stop audio-visual systems fitted to all vehicles.
A new joint Board, chaired by the Mayor and including executives from the Combined Authority and bus operators, would ensure greater public influence over the bus network and accountability of bus companies for their performance. It will also provide greater transparency over decisions affecting bus services.
More than £130m would be invested in around 500 new cleaner low emission buses to boost air quality in Greater Manchester. It would add to the £16.5m fleet of more than 30 electric buses which are already being introduced by Stagecoach on two key high-frequency services connecting Manchester city centre, Manchester Airport, five hospitals and two universities from March 2020.
The new proposals have been developed following extensive consultation with senior officials at TfGM. Stagecoach, the main operator in South Manchester, is already committed to the pledges in the new partnership proposals if they are accepted. Other operators in the area would also be invited to enter into the partnership.
How would the new agreement work?
The new way forward for the region's buses would be delivered under a new contractual agreement with Greater Manchester Combined Authority. It would see a partnership approach in the south of Manchester seamlessly integrated with any franchised or partnership system that may be adopted in the north, delivering one easy-to-use network.
Bus users in south Manchester have benefitted for many years from significant investment, punctual and reliable services, and low fares. Customer satisfaction in the south of Manchester is currently 89%.
The new proposals, which would deliver the key objectives in the Combined Authority's 2040 transport strategy, have been put forward as part of the consultation on the way forward for buses in the region. They are also designed to reduce the cost and future financial risk of the bus network to the Combined Authority and local taxpayers.
Stagecoach's proposals would be open to participation by other small and large bus companies in south Manchester. The plan would see the introduction of a 10-year long-term partnership agreement between bus operators and GMCA, with the benefits flowing quickly from June 2020.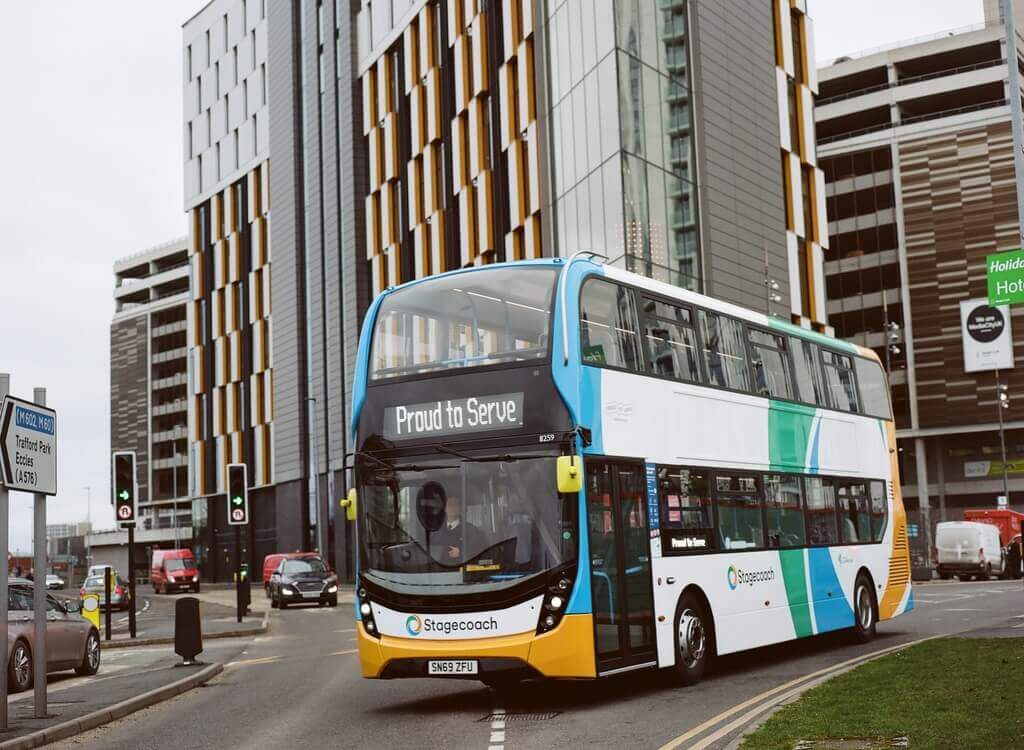 What else is included in the new plan?
The multi-million-pound bus operator-funded package of improvements in the south of Manchester also includes:
a better-integrated bus, tram and rail network, with enhanced consultation;
one main customer contact point for all bus services in Greater Manchester;
a new performance regime and congestion-busting measures to deliver quicker journeys;
open data on operational and financial performance and customer complaints;
commitment to Real Living Wage for staff, plus investment in training and apprenticeships;
recycling and other environmental commitments; and
community benefit initiatives, including breakfast clubs for children
What is Stagecoach saying about the proposals?
Elisabeth Tasker, Managing Director of Stagecoach Manchester, said: "Our region deserves the best bus network operators and the Combined Authority can deliver. By working in partnership with local people and politicians, we are determined to make sure customers, communities and taxpayers in Greater Manchester get just that.
"We will deliver better air quality for our communities with huge investment in greener buses. We will save people money by introducing London-style price-capped fares. More accessible and integrated services will make buses easier to use, and we will cut the council and taxpayer bill to run socially necessary bus routes.
"Our plans will mean that the region shares in our financial success, there is greater public influence over the bus network, bus operators are even more accountable for their performance and there is more transparency around decisions. Crucially, our plan will build on the best of what we have now and deliver one seamless overall bus network for customers.
"We are ready to start introducing these improvements in a matter of months, working constructively with politicians across Greater Manchester to deliver on our promises and give the region the high-quality bus network it deserves."
What happens next?
The current GMCA bus consultation ended on 8 January 2020. Responses to the consultation are now being evaluated and in due course Greater Manchester Mayor, Andy Burnham will make a decision on the way forward.