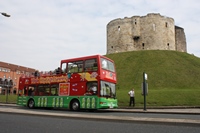 80% of York's buses could be electric due to them operating within urban areas
Measures to continue to improve York's air quality over the next six years are being proposed through the development of York's third Air Quality Action Plan (AQAP3) – which include proposals for a Clean Air Zone plan (CAZ).
A consultation on the AQAP3 is set to be progressed, which is the main delivery plan for the measures in York's Low Emission Strategy (LES), which according to the City Council, was the first strategy of its kind to be adopted in the UK in 2012.
Cllr Dave Merrett, Cabinet Member for Environmental Services, Planning and Sustainability, said: "Poor air quality is one of greatest challenges currently faced by York, and indeed the UK, and a significant human-made cause of ill health and possible premature death.
"The promotion of electric engine vehicles, which are very cheap to run, albeit expensive to purchase, will help us to meet Climate Change Act (2008) targets for reducing greenhouse gas emissions."
Central to the proposed framework is the concept of a CAZ, where local bus emissions would be regulated based on the frequency of which they enter York's inner ring road. However, the introduction of a CAZ will be subject to further consultation with bus operators, as well as continuing support in terms of access grants and loan schemes to enable operators to upgrade their vehicles.
York has already introduced electric buses and electric vehicle charging points. With support from the government's Green Bus Fund, York became the first city in the north to introduce a new fleet of electric buses to its Park and Ride service and other routes across the city thanks to a successful bid in May last year, which awarded the authority, First and Transdev £1.4m funding towards 15 new electric buses. These new buses will save over 7,500 tons of CO2 emissions in York over their lifespan.
Cllr David Levene, Cabinet Member for Transport, said: "We've been determined to improve York's air quality and the city's carbon footprint, and have been working with bus operators through York's Quality Bus Partnership to achieve this.
"A feasibility study commissioned by the council and undertaken by Arup has shown around 80% of York's bus services could be operated using electric vehicles because they operate largely within the urban area, making it easy to provide recharging facilities."
The Economic & City Development Overview & Scrutiny Committee will review the report at a meeting on October 1. Details of the consultation will be taken back to Cabinet Members for approval by December 2014 with a full consultation to commence shortly after. This will allow a final report asking to adopt AQAP3 to be brought to the Cabinet Member with the potential for the CAZ to be introduced shortly after.