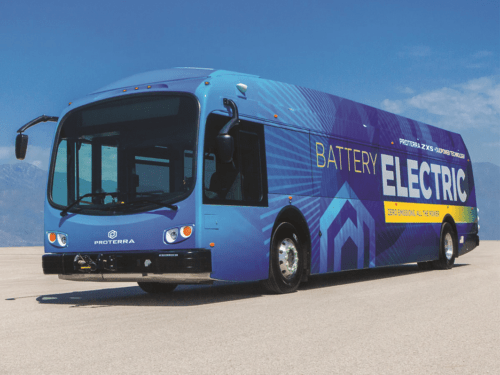 USA
American electric bus manufacturer Proterra has filed for bankruptcy protection, having struggled with inflation and supply-chain disruptions and despite significant amounts of US federal funds being invested into procurement of electric buses. California-based Proterra said it was struggling with how to make money while delivering the individually designed buses its customers demand: "While our best-in-class EV and battery technologies have set an industry standard, we have faced various market and macroeconomic head winds, that have impacted our ability to efficiently scale all of our opportunities simultaneously," said Chief Executive Gareth Joyce.
The company plans to keep operating as it works through bankruptcy, and transit agencies which have ordered buses have been assured that they will receive them. Melinda Metzger, Executive Director of Chicago suburban bus operator Pace, which is awaiting the delivery of 22 electric buses from Proterra, told the Washington Post that the industry can't afford to lose a major manufacturer. If there's less manufacturers, the backlog gets greater and we can't get these buses on the street, which we need to do," she said.
In a situation not dissimilar to that in the UK, despite promises last year of grants to double the number of zero-emission buses on the roads in the United States, it is taking time for that money to translate into buses in service. Figures collated by US industry publication Metro show that deliveries of electric buses in the country dropped by a fifth last year, though it is expected that by 2025, half of all newly ordered buses will be zero-emission.
Proterra was founded in 2004 and sold its first bus five years later. It has delivered approximately 1,000 electric buses, including 199 last year, in the intervening time period. In January, it announced plans to close a factory in City of Industry, California, and to consolidate its operations in South Carolina, with the loss of 300 jobs.
The company stated that it would file for bankruptcy "in an effort to strengthen its financial position through a recapitalisation or going-concern sale."
"Given the highly customized nature of the buses, small delays and disruptions can cause significant production inefficiency," said CEO Gareth Joyce.
Proterra is not the only manufacturer to find itself struggling in the US market. Volvo-owned Nova Bus said in June that it would leave the US market and close its plant in Plattsburgh by 2025 as a result of repeated financial losses.
Proterra Vice President for Public Sector Sales Jennifer McNeill added: "What we're facing is trying to ramp back up to pre-pandemic production levels. The market is there. The order book is there."