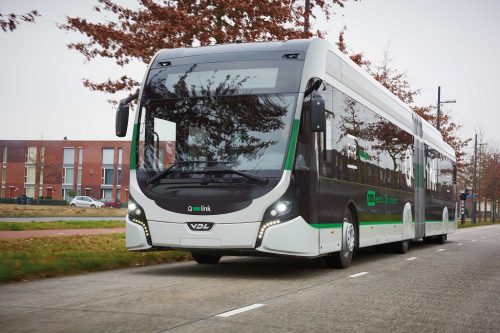 Another Dutch operator commits to VDL Citea Electric artic operation
HOLLAND Dutch operator Qbuzz has ordered 10 BRT (Bus Rapid Transit) design VDL Citea SLFA Electrics that will operate first fully electric Q-link routes, 1 and 11, in Groningen from December 11, 2017.
'Opportunity charging' will be used to recharge the buses while they operate along the routes, sufficiently boosting their range enabling them to provide a full service. VDL is providing rapid charging stations specifically for the purpose. At the end of their scheduled day's service, a full recharged will take place at the Qbuzz depot overnight.
By 2030 the Netherlands' entire bus fleet, and thus all buses in Groningen and Drenthe, must operate with zero emissions. The order is the result of collaboration between Qbuzz and OV-bureau Groningen Drenthe, (a partnership between the provinces of Groningen, Drenthe and the municipality of Groningen), which has worked out a transition plan for the sustainability of bus provision in Groningen and Drenthe.
The VDL Citea SLFA Electric artic is 18.1m with an updated, futuristic BRT (Bus Rapid Transit) design. Recently, it secured the Red Dot Award 2017, an international design award presented annually by Design Zentrum Nordrhein Westfalen in Essen, Germany. The bus won the award in the category 'product design'.
Qbuzz was established in April 2008 and has 2,400 employees operating 650 buses and 26 trams. It transports approximately 230,000 customers daily.