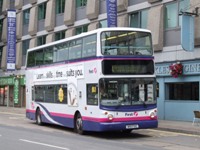 Bristol City Council intends to use the proposed Quality Partnership Scheme (QPS) to "put the power back in customers' hands" and force bus operators to compensate passengers if services are late.
Tim Kent, cabinet councillor in charge of transport, said there would be new proposals applying to operators running services on the £78m Greater Bristol bus network.
The QPS is part of an arrangement between the West of England Partnership, an agglomeration of councils in the former Avon area, and bus operators planning to use the new Greater Bristol bus network. It aims to enforce standards and increase the number of users of public transport.
Bus operators would be informed how frequently services must run on particular routes, and maximum fares would be set. As part of the agreement, councils will ensure bus stops, shelters, bus lanes and real-time information signs are maintained.
Under the proposals, services on routes with a 10-minute frequency would be considered late if a passenger had to wait more than 20 minutes for a bus. On other routes, if a bus left more than one minute early or was 10 minutes late, the operator would also be liable to pay customers compensation.
Cllr Kent insisted the objective "is not to put bus companies out of business." He added: "On occasions it will not be their fault that they are late and the issue of who pays the compensation would need to be discussed. It is all up for discussion."
However, a spokeswoman for First warned the QPS could make running services a "commercial impossibility".