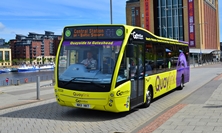 Go North East's yellow Quaylink buses are now carrying passengers at a rate of around 2.3 million per year, in contrast with the trend of falling passenger numbers in the area.
The operator said the new Q1/Q2 services are keeping to time much better since it revamped the services to operate every 15 minutes.
Head of Commercial at Go North East, Andrew Tyldsley said: "Our plans are on track to increase passenger numbers over the next three years.
"The new links we have added to the Quaylink routes are paying off. Our customers are getting a much more reliable service and are paying us back with their loyalty."
In recent months, the buses were given a fresh livery and new destinations were added to improve the service.
Residents of the wider-Gateshead area and those living in Great Park and Gosforth are among those benefitting from new stops added to the Quaylink routes.