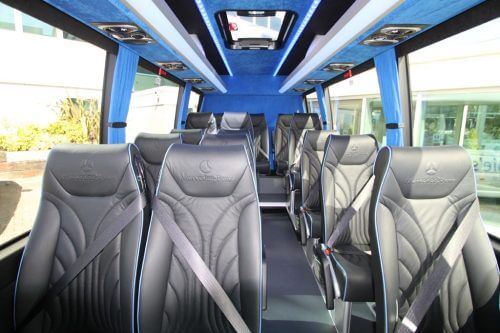 Rabbies Small Group Tours of Edinburgh has taken delivery of 18 new Euro 6 516Cdi EVM Elegance 16-seater Sprinters.
Each minibus is powered by a 163bhp engine. Eight of the vehicles carry six-speed manual gearboxes, while the remaining 10 utilise seven-speed G-Tronic automatic gearboxes.
The vehicles all retain hinged cab entry doors for passenger access, with moulded three stage entry step lit by LED strip lights. Full depth drop boots are specified, with fold out flaps and stainless steel boot protectors. The panoramic double-glazed saloon windows are tinted in privacy grey.
For climate control, the vehicles carry Mercedes-Benz in-dash Tempmatic air-conditioning with saloon air conditioning ducted through rack. The entertainment specification includes an Audio 15 Upgrade radio SD, with iPod and Bluetooth inputs.
Each Sprinter carries 16 Politecnica Relax GTV 435mm seats, finished in Zenith Real leather.
Rabbies Small Group Tours started in 1993 and is based in Edinburgh. The operator quoted EVM's continued ability to create a quality build as the reason for choosing the company.