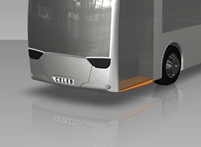 Capoco Design and Equipmake have premiered the Cost-effective Electric Bus project, or CELEB.
The CELEB project is an advanced research and development study into the optimum electric city bus. The project is part of the Innovate UK initiative to support development of future technology in transport.
The year-long study aims to research and develop an innovative concept for a new generation of battery electric city buses at prices which will be attractive to both buy and operate.
Alan Ponsford, Capoco's Design Director and Founder, said: "This is a very exciting and timely project. It is clear that the air quality in many of our cities leaves a lot to be desired.
"This new electric bus will have so many gains in addressing these challenges – cleaner air, lower energy use, less congestion and lower noise levels. It really is a win-win approach.
"The lead given by Innovate UK, the nation's innovation agency, is a brilliant method of supporting UK technology entrepreneurs and, at the same time, opening fresh avenues leading to new products, new technology and new manufacturing opportunities.
"The Innovate UK approach is deeply attractive, given it is technology-led. This allows the participating companies, like Capoco and Equipmake in this particular case, to concentrate on finding innovative and advanced routes to new products, without the political interference that has derailed other recent projects that might have delivered so much more in terms of better and more efficient buses."