Reading Buses has converted one of its ADL Enviro400 hybrids into a fully-electric bus.
The vehicle was originally a diesel-electric hybrid, commonly seen on the yellow 26 route
The newly-converted vehicle, which the operator describes as a 'big first' for the area, recently began operating on route 26.
This makes it the first electric bus to enter regular service in the Thames Valley outside of London, Reading Buses says.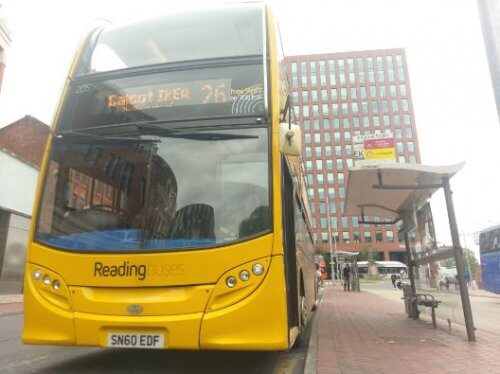 To draw attention to the double-decker's environmental credentials, it will soon receive a new livery.
Robert Williams, Reading Buses Chief Executive Officer, explained: "The background is that the vehicle was one of our diesel-electric hybrids which run the bulk of the yellow 26 route.
"They are basically electric vehicles with an onboard diesel generator that tops up the charge.
"To all intents and purposes the bus looks like any other yellow 26, but it is quieter. We have replaced the diesel generator with more batteries to gain added experience of electric vehicles.
"We will be running the electric bus on an extended trial on yellow 26 for the next nine months or so before trying it on other routes – it's a big first for the town and area.
"Wider roll out would need significant investment in charging infrastructure, but we want to gain experience with the technology to see how it performs in a real-world scenario.
"In the meantime, Reading Buses is still very much committed to using compressed natural gas. Over one third of the fleet in Reading runs on carbon natural gas.
"Work is also underway with Reading Borough Council to retrofit all remaining diesel vehicles to the latest standards by the end of the year.
"This means they will emit fewer particulates than a single modern car – regardless of occupancy.
"At the same time, our telematics system encourages smooth, efficient driving, and an internal campaign is underway to encourage staff to switch engines off when parked to reduce idling."
Read more news here: cbwmagazine.com/category/news