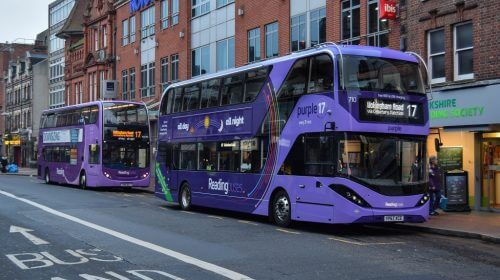 The £5.1m fleet of 17 high-specification biogas double-deckers will be fully in service in February
Reading Buses' purple 17 route between Tilehurst, Oxford Road, Central Reading and Wokingham Road has been upgraded with a fleet of new biogas buses.
The flagship Reading Buses route is seeing the introduction of 17 Alexander Dennis Ltd (ADL) Enviro400 City-bodied Scania biogas double-deckers – a £5.1m investment. Some of the vehicles are already in service, with the final vehicles entering service in February.
The specification of the new buses includes high back seats, USB charging points, coat/bag hooks, free superfast 4G WiFi, space for two wheelchairs users, next-stop audio and visual announcements, a group seating area upstairs with a table and 'air charge' mobile phone charging dock, exterior lighting to make purple buses easier to identify at night and 'high quality on board ambiance,' including wood-effect flooring, mood lighting and styling.
The buses feature two doors, one for boarding and one for alighting. This arrangement, similar to London buses, aims to speed up the time it takes for buses to pick up and drop off, as both can happen simultaneously. Reading Buses expects this to combine with Reading Borough Council's forthcoming red route scheme to provide a dramatic improvement in bus journey times along the route, with the added benefit of reducing how long buses are stationary at stops, some of which are on the main carriageway and will therefore benefit all road users.
Reading Buses CEO, Martijn Gilbert, said: "It's important that we continue the evolution of Reading's bus network to meet demand and keep our compact and congested town moving.
"Popular services such as the 17 rightly justify this sort of investment and it's long overdue as the current fleet of 17 buses has been on the route for six years now, the longest of any fleet in recent times. The previous buses will now be completely re-furbished for use elsewhere on our network.
"We're delighted to have been able to work with Scania and ADL on a pioneering high specification for these city buses. These provide users with modern and eco-friendly travel, including a range of features to aid customers' journeys, with the latest digital connectivity and extra features for wheelchair users.
"This will be the first frequent bus service in the UK to be able to carry two wheelchair users at once, reflecting the accessibility of Reading's Bus network and its wide scale use by everyone regardless of their mobility."
The company said it is particularly keen to advise customers about exiting from the middle doors. Around 90% of bus stops along the route are suitable and on-board announcements will advise when only the front door can be used.
Martijn added: "It is also great news that this substantial upgrade to this busy route comes alongside the Council's soon to be introduced red route scheme, which will provide much wider benefits. We're playing our part by not only making the bus a more attractive choice, but also speeding up waiting times at stops by bringing back dual door operation. This is something Reading had until the late nineties and today's technology means it now comes with a whole host of safety features. London has continually operated dual door buses since the 1960s and we're now seeing city regions such as Brighton, Oxford and Bristol return to this type of bus.
"The purple 17 continues to provide a 24/7 service, yet another benefit for users. Also Reading's Bus fares, some of the lowest in the UK, have not been increased like rail fares so with affordable, frequency and now faster buses, there really has never been a better time to get on-board."
Mark Oliver, UK Bus and Coach Fleet Sales General Manager from Scania (Great Britain) commented: "Scania is firmly committed to driving the shift to more sustainable transport systems. When operating on biogas, the carbon dioxide emissions of Scania buses are reduced by up to 84% compared to regular diesel. They are significantly quieter too, making them an ideal choice for urban operations.
"As the first UK bus company to take delivery of our latest generation gas-fuelled buses, Reading Buses has led the way and benefited from this technology since 2013.
Stefan Baguette, Group Product Manager at ADL, added: "Reading Buses is at the forefront of innovation in the UK bus industry and we are delighted to have collaborated with them on a bus that will give all customers a journey experience of the highest standard. We are particularly happy with the inclusivity offered by the provision of two wheelchair spaces and extra features for their users, such as additional information screens. Operational efficiency is improved too with the two doors on our stylish Enviro400 City body."