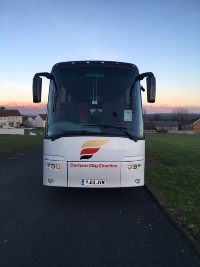 Durham City Coaches is losing its established black-based livery in favour of a vibrant new white-based scheme, with aim of bringing together parent firm European Travel Group and its subsidiaries Lee's of Durham and Darlington-based Enterprise Travel Group.
Asked about the story behind the new livery, Kristian Collin, Group Marketing Director told CBW: "The three coach operators form part of European Travel Group, currently a non-trading arm of the business. Yes it's a re-branding, but we're changing the companies too."
However, Kristian was keen to stress that the three operators are "not merging."
He added: "The swishes are drawn from the 'E' in European. We hope eventually that it will become a recognised logo. We've tried to give the three companies a recognised, uniform livery whilst retaining their identities. If it's too much too soon, there is a danger customers will be lost.
"We are still at the early stages yet, with one coach – a Bova Futura – having been done. We're planning to re-livery a coach a week between the three firms – we expect it to take a year to complete. We are also close to going live with the new website for Durham City Coaches too. Once that's done, attention will turn to Lees' website."
Durham City Coaches currently operates 20 vehicles, Lees 18 and Enterprise 10.
Kristian is the son of ETG owner, Derrick Collin. An entrepreneur, he bought Lee's four years ago after becoming friends with Malcolm Lee. A year later, Durham City Coaches was acquired and then about 18 months after that, Enterprise was acquired. Michael Lightfoot remains MD at Durham City Coaches and Malcolm Lee is still MD at Lee's. Brian and Barbara Brown who owned Enterprise wanted to retire, so Neil Nickson was brought in as MD for that business.
"We're focussed on retaining the existing management whenever possible. Dad and I are new to the coach industry. Dad knows all about financial matters and I'm somewhere in between that and an MD," concluded Kristian.