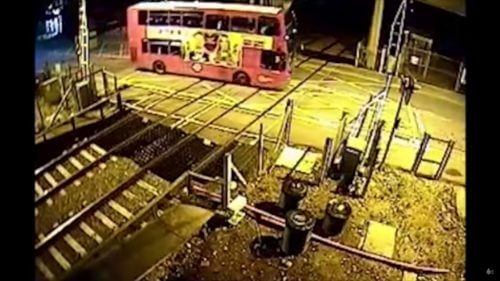 Driver also given 150 hours of unpaid work after the incident, which cost Network Rail an estimated £49,000
A 25-year-old bus driver responsible for driving through a barrier at Northumberland Park level crossing in North London has been sentenced at Highbury Coroner Magistrates' court. Emil Koranteng pleaded guilty to a charge of dangerous driving.
The incident happened at approximately 2200hrs on Monday, May 29 this year. Emil was driving an out of service Wrightbus Eclipse Gemini-bodied Volvo B9TL for Go-Ahead London along Marsh Lane in Northumberland Park.
As he approached the level crossing, the lights were already illuminated. At this point, all drivers should apply their breaks and wait for the train to pass.
As the barriers began lowering, he sped up and attempted to zig-zag his way through the barriers.
Due to the size of the bus he was driving, this failed and the rear of the vehicle clipped the barriers, causing extensive damage.
The damage to the level crossing, and subsequent delays to trains, cost Network Rail an estimated £49,000.
Koranteng was handed the following sentence:
 Ordered to undertake 150 hours of unpaid work;
 Ordered to pay an £85 victim surcharge;
 Ordered to pay £85 of CPS costs; and
 Given a 15 month driving ban with extended re-test.
Inspector Steve Webster, from British Transport Police, said: "This was foolish and outright dangerous behaviour from this bus driver. He put his own life and the lives of rail users at risk by driving so dangerously.
"After the incident, the broken barrier was left on the floor and the level crossing was exposed, meaning any pedestrians could have walked onto the tracks.
"I am very pleased that we were able to identify Mr Koranteng and bring him before the courts.
"As this case shows, frustratingly, people are still risking their lives on level crossings by ignoring the warning signs and crossing the tracks when it is not safe.
Sadly, our officers know the tragedy families are faced with after a loved one is killed at a level crossing and we don't want anyone else to have to experience that.
"What may seem like a quick short cut, or a bit of fun, can leave devastation and heartbreak for families."