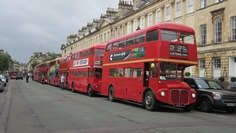 This year's annual Imberbus event has raised over £9,000.
The annual service to the village of Imber on Salisbury Plain has run since September 5, 2009, after lengthy negotiations with the MOD at a very senior level. Bath Bus Company was permitted, with the cooperation of several other operators, TfL and Wiltshire Transport Department, to operate a bus service from Warminster to the village of Imber and other points on Salisbury Plain.
The village is no longer inhabited but remains in use for army training purposes. However, the connecting road is open to the public on a limited number of occasions each year, one such occasion being selected for the one-day service.
This year's Imberbus was held on Saturday, August 20, 2016, and despite poor weather, it saw the biggest turnout ever of both members of the public and bus enthusiasts alike. Nine bus operators attended, including Stagecoach, Arriva, Ensignbus, RATP London, and Metroline.
A total of 18 buses were in service. This included every version of Wrightbus' New Routemaster, including 3LTs (one of which was green), the only ST (shorter version) and the Volvo-based SRM. The SRM performed its first passenger carrying service at the Imberbus.
The remaining 13 vehicles were traditional Routemasters.
2,000 passengers were carried and £9023.00 was raised, with all proceeds being donated evenly to the Royal British Legion and the Imber Church fund.