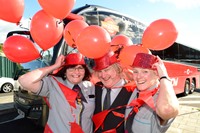 Trent Barton's non-stop Red Arrow coach service between Derby and Nottingham celebrated its 21st birthday with a party for staff and passengers.
Thursday October 20 and Friday October 21 marked the occasion and the event ran on the coaches and inside both Derby Bus Station and Nottingham's Victoria bus station – complete with balloons and birthday cake.
Passengers were treated to a birthday breakfast and a special birthday beer, while Trent Barton employees adorned their coaches with decorations and wore party hats. More than a million passengers ride the route that runs every 10 minutes between Derby and Nottingham.
Jordan Kemp, Marketing and Communications Manager at Trent Barton, said: "The service was a major breakthrough, one that has inspired other cities' transport operators and helped both Nottingham and Derby to develop as places to work, study and play.
"I've no doubt red arrow's future will be as exciting and pioneering."
Red Arrow has seen five generations of coaches over its 21 year life: Barton DAF (1995-1996); Plaxton/Volvo B10 (1996-2004); Inter-Century (2004-2015); Irizar i4 (2010-2015); and the current Plaxton Elite-bodied Volvos. Each week, the red arrow fleet's drivers clock up a total of almost 25,000 miles on the road.