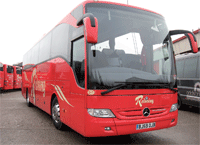 Redwing Coaches has placed an order for 14 new Mercedes-Benz Tourismo coaches with Coventry based Evobus UK.
The order, valued at around £2.8m, is expected to be delivered by March 2012 in time for the new season.
Nigel Taylor, operations manager & deputy general manager told CBW: "Mercedes-Benz Tourismos now form a large part of our fleet. We took nine this year into the Redwing fleet, while a pair entered service with our Reliance fleet. On top of that, we took delivery of 14 Tourismos last year, which will be followed by a further 14 for next year.
Running a modern fleet brings many benefits, both for our customers and operationally.
Built to Redwing's own specification, the new coaches will replace an equal number of existing coaches. The new Tourismos will comprise a mix of 49 seaters with washroom/WC and 53-seater standard luxury coaches. For many years, Redwing Coaches has followed a policy of regular planned fleet renewal. As a result, the Addison Lee Group company claims it has one of the youngest and most technologically advanced large fleets of luxury coaches in Europe.