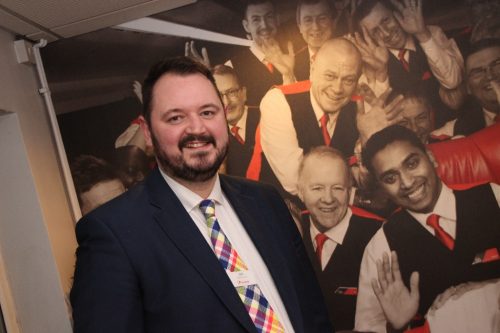 Gareth Evans talks to Alex Hornby, CEO of Transdev Blazefield about his two years in the business to date, the changes, challenges and opportunities
As we talk over a welcome strong coffee in his office which overlooks Harrogate depot, it's clear Alex is relishing his time at Blazefield. Now in his mid 30s, he's climbed the ranks to become CEO of one of the industry's well-known operators. While there have been challenges along the way, his determination to bring some of the acclaimed old Blazefield spirit back, drawing on his previous experience at Travel West Midlands, Stagecoach, Go-Ahead and Trent Barton, is all-too clear.
Like most of us, Alex's passion for the industry started at an early age: "My great uncle worked at Merseybus' Edge Lane Works – I remember him well talking to him about buses. I didn't go to nursery school – I was looked after by my grandparents. They were regular bus passengers. They discovered that a bus ride, timetable or model kept me quiet. I then found myself at the age of 6 and 7 drawing bus pictures and route maps, which I accept isn't typical behaviour of a 'normal' youngster. It was probably clear from then on what I'd do for the rest of my days.
"Aged 15, I completed my school work experience with Merseybus at Green Lane. I was given a certificate, which I've kept framed and proudly display in my office to this day. Alongside it was an invoice – as I broke the laminator… […]
What you get with a subscription
Operator & Supplier Profiles
Face-to-Face Interviews
Lastest News
Test Drives and Reviews
Legal Updates
Route Focus
Industry Insider Opinions
Passenger Perspective
Vehicle Launches
and much more!