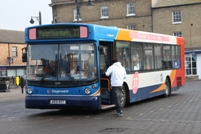 Extra funding has been given to local authorities to help improve the efficiency of bus services, although some argue it isn't enough
Local transport minister Norman Baker has announced a number of changes aimed at boosting passenger numbers and improving the efficiency of bus services.
Announced on Monday (March 26), the new proposals are a response to government's belief for the need to reform bus subsidy (Bus Service Operators Grant) and the recently concluded Competition Commission investigation into the bus market. Having worked closely with bus operators, local councils, Local Government Association, the Passenger Transport Executive Group, the CPT and the Community Transport Association, there are several changes being brought in.
Subsidy payments: a proportion of these will now be devolved to local authorities, rather than paid to bus companies. The government states it recognises every area has its own travel issues and transport needs. It will now be up to authorities to decide how this money is spent;
Competition barriers: will be eliminated and new regulations developed to prevent anti-competitive practices by bus operators. The DfT will work closely with local councils to offer guidance on developing reasonably-priced tickets that can be used on any bus; and
Smart ticketing: The DfT is providing an extra £15m to operators of local bus services which do not have smart ticketing equipment installed on their buses. This will help meet the aim that by 2014, the majority of journeys by public transport be made using a smartcard.
A spokeswoman from the DfT told CBW the local authorities would have to provide evidence the money was being spent on relevant schemes and that it could not be diverted elsewhere.
Baker said: "My vision is for a bus service which is reliable, flexible, offers competitive fares, smarter ticketing and provides passengers with a service they want to useregularly. Hot on the heels of the announcement of over £100m of new funding for greener buses, today I have agreed an additional £15m for smart ticketing. By devolving funding to local authorities it now gives them the power to tackle local issues on the ground and develop practical solutions to community problems."
Simon Posner, chief executive at the CPT welcomed the move: "We are glad the minister has resisted calls from some quarters to devolve the payment of all of BSOG to local authorities. The minister's proposals on how BSOG just for tendered services will be distributed appear sound. They will enable the industry to work with local authorities to deliver local bus services which meet the need of our customers. He has listened to the concerns we raised and settled on a solution where our passengers will not be adversely affected.
Posner added: "It's vital this funding is used for the benefit of passengers on local bus services and not ultimately to support other areas of local authority spending. Failure to do this will result in a reduction of services and increases in fares – the very thing BSOG has supported for a number of years."
Reacting to the news, Sophie Allain of the Campaign for Better Transport, said: "The new policy is welcome and giving councils more powers and funding may help, but today's announcement is just a silver lining to a big black cloud of bus cuts. It fails to deal with the cuts to services across the UK. These cuts matter as they stop people getting to work and also harm high street trade. The underfunding of the concessionary fares scheme and deep cuts in bus funding still need to be urgently addressed. However, the proposals today do give councils new opportunities to improve buses and we will be pressing councils to use them."