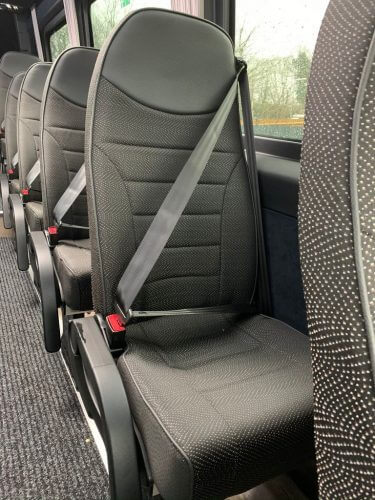 Regency Coaches is a family run company based in Lewes, East Sussex that has recently taken delivery of an EVM Elegance.
The Mercedes-Benz Sprinter 516cdi-based vehicle is fitted with 22 EVM Comfort Class 80 seats finished in Epengle Wool Mix moquette. Passenger entry is through a Masats plug door with EVM integrated three-stage entry step with LED strip lights and stainless-steel inserts. Stepped curved glazed saloon windows in privacy grey are specified, this model also has Eberspacher EV808 8kw tap in air-conditioning ducted through the luggage rack, exiting through the passenger service units. Hard-wearing Tarabus flooring completes the interior.
The boot has original Mercedes-Benz 270-degree hinge doors. The rear row of seats is on a raised pedestal. The boot is a full depth drop boot with fold-out flap and stainless-steel boot protector.
The Mercedes-Benz Sprinter is a Euro VI 516cdi extra-long wheelbase model, the transmission is a seven-speed G Tronic automatic gearbox, and the exterior is finished in Mercedes-Benz Arctic White.