GERMANY
German operator adds to its fleet of Dutch-built city buses
VDL Bus & Coach has received an order from ASEAG (Aachener Straßenbahn- und Energieversorgungs-AG) for 25 Citea LLE-120s.
ASEAG is responsible for the public transport in and around Aachen and in recent years has bought 27 Citea LLE-120s.
Delivery of the latest intake is planned for 2019.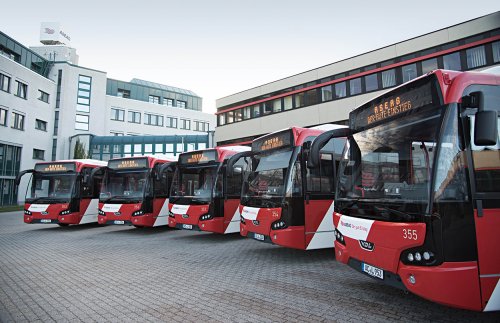 "We are proud we can further extend our cooperation with government-owned company ASEAG and look forward to seeing the 25 new VDL Citeas LLE-120 in the future cityscape of Aachen," said Boris Höltermann, Managing Director VDL Bus & Coach Deutschland GmbH.
The VDL Citea LLE-120/255s for ASEAG features a 30+2+1 seating arrangement. In the case of the VDL LLE (Light Low Entry), the combination of an environmentally friendly engine with a very low weight provides what the manufacturer describes as class-leading fuel economy and reduced maintenance costs.
Accordingly, the buses meet the highest safety standards and the German state-mandated limit for CO2 emissions.
For more than 130 years, ASEAG has been responsible for public transport in and around Aachen.
The company's original goal still applies to this day: delivering tailor-made mobility solutions.
In a deployment area of some 700km2, more than 230,000 passengers are carried every day.