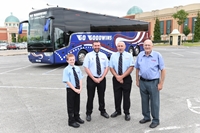 Alan Edward Goodwin of Go Goodwins Coaches died peacefully on December 23 at the age of 77.
Manchester-based Go Goodwins Coaches was founded by Alan in 1976. He also worked for his grandfather who started York Motors of Chorlton in around 1917. Alan had been in the coach and bus industry all of his life.
Paying tribute, Wesley Goodwin, Alan's grandson who helps manage the business, told CBW: "Alan put the foundations down for what my dad and I do now. If not for his hard work we wouldn't be where we are today."
The funeral is this Saturday (January 10) and all are welcome to pay their respects. At 0900hrs there will be a procession of buses and coaches going to the Southern cemetery in Manchester. All are welcome to join the procession – they will be waiting at the crematorium to return any passengers.