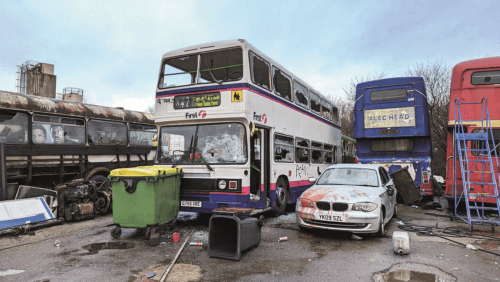 A classic vehicle restorer hit by vandals has praised the response of the industry, the preservation movement and individuals in offering financial help as well as replacement glass
The owner of a bus and coach restoration business targeted by vandals has thanked people from the industry and enthusiasts across the world for their support, reports Nick Larkin.
"It was touch and go whether we could go on," said Martyn Hearson at Reliance Bus Works in Stoke-on-Trent. "All the support we've had has given us the strength to continue. People have been amazing, and even set up a GoFundMe page.
"We've had so many offers of glass for the damaged vehicles. I'd just like to say a big thank you, this shows that good can come out of bad. The response has been really heartening."
Eight buses and coaches and one car were badly damaged in the attack, which took place between 1500 and 1700hrs on Sunday 5 January. Windows were smashed amongst other damage, costing an estimated £20,000 to rectify.
Vehicles targeted range from 1961 MCW-bodied Lancashire United Guy Arab 534 RTB to 1986 Dormobile-bodied Freight Rover Sherpa D583 EWS, new to Badgerline.
A massive clear up operation began after the damage was discovered following the attack. "We are a small, niche business working on a low profit margin, but we'll get there thanks to everyone," said Martyn. Police have been viewing CCTV footage from nearby properties to identify the culprits, who are believed to have been children.
Martyn has been a fan of buses all his life, working for local operators Stonier's and Graham's Coaches of Talke before co-founding Knotty Bus & Coach in 1988. Operations ceased in 2000 and Reliance Bus Works opened on the same site. Classic vehicles have been worked on and restored there ever since.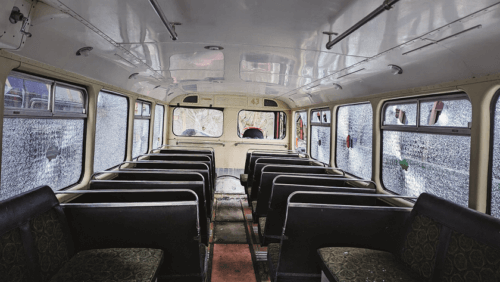 "It was just soul destroying. You want to create memories and help these things live on, it's doing the entire opposite. Total destruction, complete destruction. All that work for nothing." Laura Boote, daughter of Martyn Hearson and director of Reliance Bus Works
"In a few short hours, a lifetime of work can be ruined. We can only imagine the pain and upset the individuals must be going through today as they pick up the pieces of what's left." Workington Transport Heritage Trust
"Coachbuilding and skilled body fitting is a dying art and it saddened me to see what has happened. Hopefully this hasn't dampened things too much and you can continue to turn out excellent looking work." Miles Williams, Coachbuilder, Trentbarton
GoFundMe page raises £14k
The GoFundMe page set up in support of Reliance Bus Works had raised £14,000 by Friday 13 January. It has been organised by Matthew Reynolds, who said: "I have been taking my vintage buses and coaches to Martyn and his team for the best part of 20 years. Institutions like this need to be kept alive, to keep our passions and love of vintage transport alive. Please give what you can and let's help to rebuild this amazing business and help out some amazing people."
gofundme.com/f/reliance-bus-works-destruction-fund