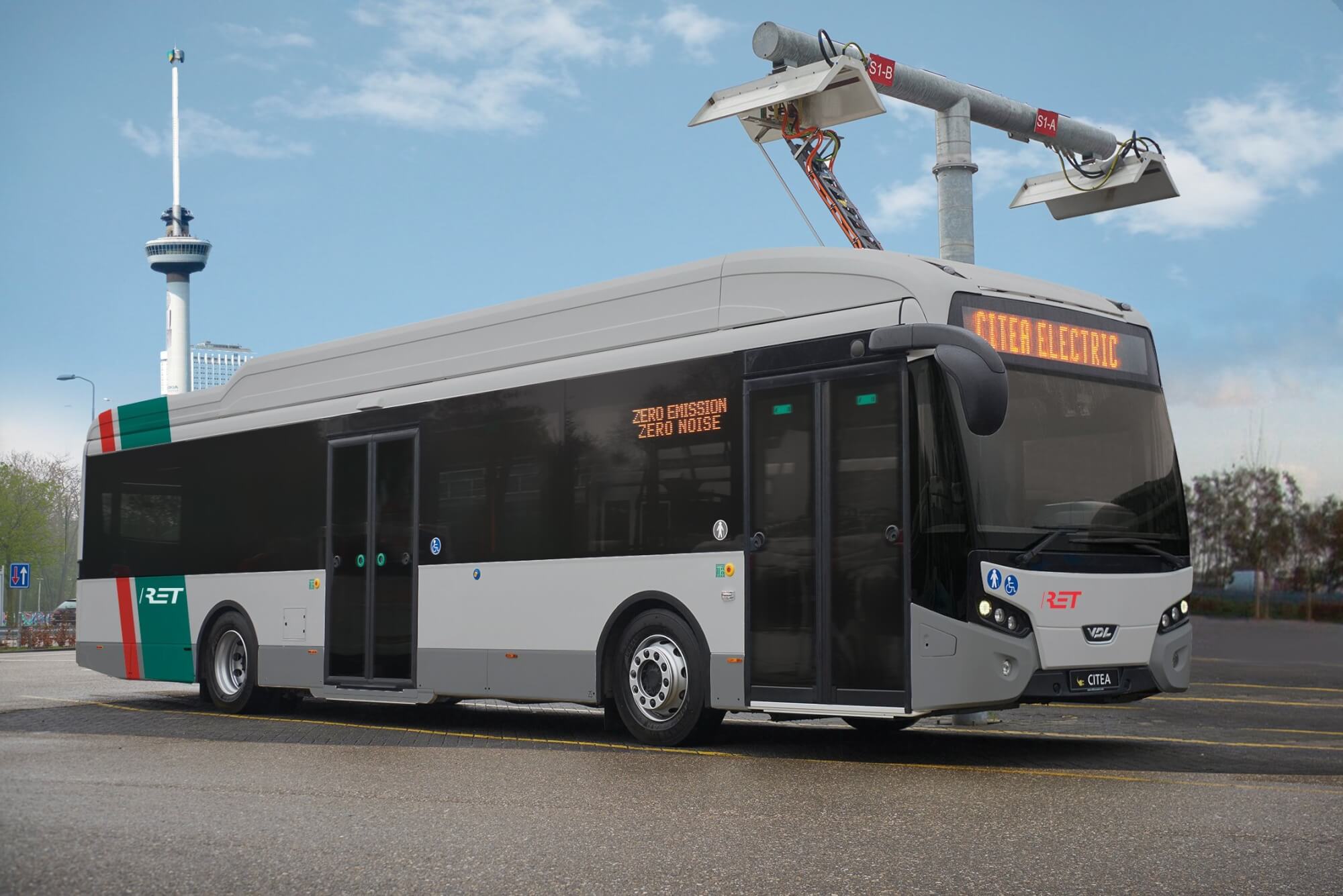 Another substantial order for electric buses secured by Dutch manufacturer
Rotterdam public transport company RET has ordered 55 VDL Citea SLF-120 Electrics from VDL Bus & Coach for use on scheduled routes serving Rotterdam, Schiedam and Vlaardingen starting in late 2019. VDL is also system supplier and will provide the charging infrastructure as well.
"With the preliminary award our transition to a sustainable bus fleet is one step closer," said Maurice Unck, Managing Director of RET. "The 55 electric buses from VDL will be used on the shorter city services. We are pleased to be able to contribute in this way to the shared sustainability objectives of the national government, the region and the RET."
President and Chairman of the Board, Willem van der Leegte of VDL Groep, said: "This past year VDL has taken big steps to further strengthen our position as electric mobility transition partner. As European market leader, our fully electric buses have travelled over 11 million kilometres. We are naturally thrilled that together with our partners, through the delivery of buses, charging infrastructure and project management, we are now also the first to contribute to the sustainability of the public urban transport in the Rotterdam region."
The electric buses for the RET, equipped with a rapid charging battery pack, will be charged at the Kleiweg depot each night by means of a 50kW slow charger. During the day they will be topped up through 'opportunity charging' at various points along the routes where 300kW rapid chargers have been installed.
Both the daytime and night-time charging will be done via a pantograph on the roof of the vehicles. As a system supplier, VDL will not only deliver the 55 buses, but also all the charging stations along the routes and at the depot.
The Citea SLF-120 Electric is a 12m low-floor bus with two doors. VDL says the entire Citea range is known for its lightweight concept and modular construction method, which guarantees a low 'total cost of ownership'. Moreover, the silent, environmentally friendly vehicles provide not only tremendous comfort for passengers but also a quieter living environment.