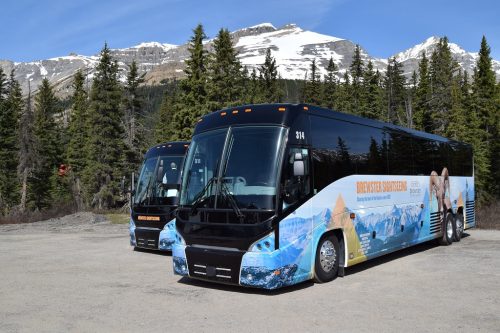 CANADA New Flyer Industries-subsidiary MCI (Motor Coach Industries) has helped Banff-based Brewster Inc upgrade its fleet with the delivery of 20 J4500s over the past few months. Eleven of the coaches were delivered last year, the other nine in time for the 2017 summer season. Each vehicle has been specified with 52 leather covered seats, wood-effect flooring, 110-volt power outlets at every seat and WiFi. 'Custom galleys' are specified at the rear where there are also cold water stations. "May kicks off our busy travel season," said Devon Dadalt, Brewster's Transportation Revenue Manager. "It's a good looking coach and our passengers like the many amenities."
Brewster is using the new coaches on sightseeing work in the Canadian Rockies where it also operates 22 Terra Buses manufactured by Foremost of Calgary on 80-minute tours from the Columbia Icefield Glacier Discovery Centre. Brewster calls them Ice Explorers and the 15-metre, 6×6 all-wheel-drive vehicles, which have a kerb weight of 25,000kg and are being repowered with Mercedes-Benz 330hp engines, have a top speed of 40km/h. They can ford 1.18m-deep streams and handle 30% gradients with ease, even slopes of 60% at a crawl.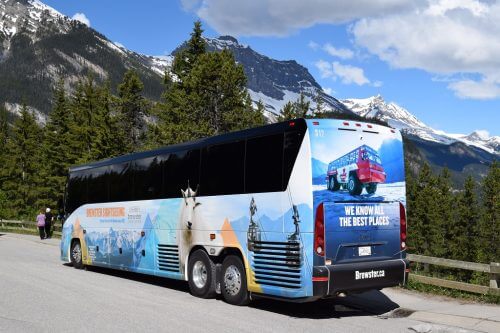 Brewster's parent Pursuit operates a portfolio of travel brands that include Glacier Park Inc, the Alaska Collection and FlyOver Canada. Brewster itself dates back to the business founded by Jim and Bill Brewster in 1892 who were aged 10 and 12 at the time. They were trained by the First Nations People to serve as guides for the historic Banff Springs Hotel. Tourism pioneers, the brothers replaced some 70 horse-drawn carriages with five motor buses in 1916 and the first lodges at the Sunshine Village Ski Area and Glacier View Inn were constructed in the 1930s. Columbia Icefield Snowmobile Tours were introduced in 1969, the Banff Gondola incorporated in 1999 and the Banff Lake Cruise acquired eight years later. What had become the Brewster Transport Company had been taken over by Viad Corp in 1996. Today Brewster employs more than 300 people and its operating divisions handle 1.5m visitors annually.