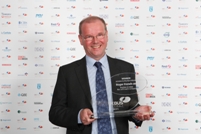 Roger French, the popular Managing Director of Brighton and Hove Bus and Coach Company, is to retire next year after overseeing the operation of buses in the south coast city for 30 years.
Roger, who will retire next March, said: "After 30 years of being involved in running buses in Brighton and Hove, I have decided it's now time to relax and enjoy my retirement. I shall miss working with all my fantastic work colleagues as well as the many people I've worked with over the years and I will always be grateful to everyone for the help and encouragement they have given me. It's been a particular pleasure to be part of the Go-Ahead Group for the last 19 years."
Perhaps David Brown, Group Chief Executive for Go-Ahead, summed it up when he said: "Roger has been amazing in the innovative way he has grown the business. He has been instrumental in giving the city the excellent bus network it has today. He deservedly received an OBE for services to public transport seven years ago.
"Roger has inspired his team to deliver a high quality service to passengers and has spent much of his career developing successful partnerships with the local authority and other key stakeholders – partnerships which are rightly hailed as a beacon for others to emulate.
"We will miss Roger, his extensive experience and unique approach immensely. He can retire safe in the knowledge that he will leave behind him a legacy of excellence which will be recognised for many years to come, not just in Brighton and Hove but across the wider bus industry."
During his retirement, Roger plans to spend time pursuing his interest in travel and transport in the UK and abroad. The Go-Ahead Group will commence the search for a replacement for Roger shortly.