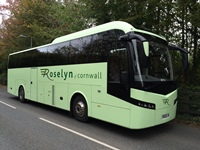 Jonathan Ede, Managing Director of Roselyn Coaches of Cornwall, has announced the acquisition of the entire Girling Coaches of Plympton operations, expanding its operations across the border into Devon in the process.
Roselyn Coaches of Cornwall can trace back its heritage for over 90 years, including over 60 years of management by the Ede family. Along with the purchase of one coach based at its headquarters in Par, the fleet now totals 53 coaches including two tri-axles and three executive 71-seater double-deckers, with the remainder of the fleet consisting of 49 or 53-seaters.
Roselyn previously acquired Currian Coaches in 2006. Girlings of Plympton will be re-branded during the summer to become Roselyn Coaches of Devon.
A spokesman from Roselyn Coaches told CBW: "We've acquired seven vehicles as part of the acquisition, and we're sending over five coaches from our fleet at Par to be based at the Girling Coaches premises.
"We were looking to expand and since we do a fair bit of long distance work into Cornwall it made sense to have another depot."