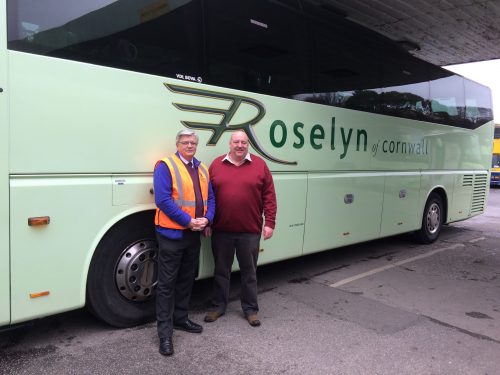 Roselyn Coaches of Cornwall has become one of the latest employers to team up with the Transport Benevolent Fund (TBF), contributing towards the cost of staff taking up membership.
TBF membership remains at £1 per week, and covers the member, their partner and dependent children; the organisation aims to offer help in a variety of different situations should the need arise.
Jonathan Ede, Director of Roselyn Coaches, said: "Being family-owned for more than 70 years, Roselyn has always tried, where possible, to support each and every one of our employees.
"We wanted to make sure all of our employees have as much support as they possibly can if they ever need it.
"TBF offers brilliant support for everyone working in the public transport industry and we look forward to working with them in the future."
Michael Gibson, Organiser for South Wales and the South West at TBF, added: "TBF can offer that helping hand if life goes a little off balance.
"We are finding an increasing awareness amongst employers for the need to offer their work force something a little different in order to show just how much they value their staff.
"This, in turn, helps to reduce staff turnover for the employer and I am delighted to welcome Roselyn on board.
"With the support of employers such as Roselyn, TBF's membership continues to increase, and has now reached a new record level at over 58,000."