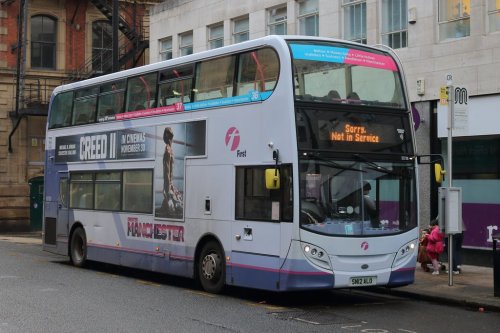 Depot's employees to transfer over to Rotala, with 125 of First's vehicles being leased
First Manchester has confirmed the sale of its Bolton depot and associated operations to Rotala for £5.3m.
The sale means the purpose-built Bolton depot site – along with its 18 bus services – will be transferring over to Rotala.
The site, which is capable of operating up to 200 vehicles, will become the new headquarters of Rotala Group in the North West, and will make the company the second-largest in the Manchester bus market.
The group already has two smaller depots in Greater Manchester, in Eccles and Atherton, operating approximately 90 vehicles.
Rotala plans to initially lease 125 vehicles from First to serve the routes, then replace vehicles progressively over time.
The acquisition is expected to be completed in August, with all 500 employees currently at the depot transferring over to Rotala.
News of the sale comes after the recent sale of First Manchester's Queens Road depot, which the operator has announced is part of its efforts to reduce its presence in Greater Manchester in response to the uncertainties in the market.
John Gunn, Chairman of Rotala, commented: "This acquisition represents an exciting opportunity to expand significantly Rotala's presence in the Greater Manchester bus market.
"The deal is an indicator of how the UK bus landscape is beginning to change. We can expect more divestment by the big bus groups in future years.
"Rotala aims to be a major player in these market developments in years to come."
Giles Fearnley, Managing Director of First Bus, added: "I'd like to thank our employees for their continued hard work to deliver the best experience possible for our customers in Greater Manchester.
"Today's announcement does not reflect on the effort, commitment or individual performance of our Bolton employees and we will be supporting them fully as they transfer to their new employer."
Read more news here: cbwmagazine.com/category/news