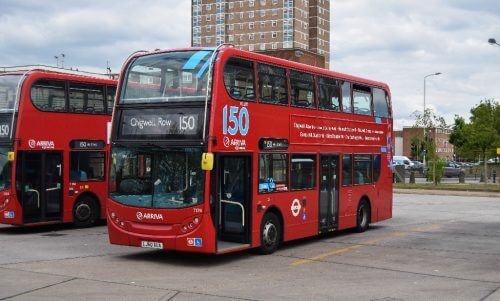 The Barkingside area of East London sees 60 colour-coded buses in service across seven routes
The Mayor of London has announced a plan to trial the first 'Tube-style' approach to bus travel, with new coloured route branding.
Individual routes have been given their own distinct colour and links to other TfL services have been clearly identified as part of a six month trial. The buses and stop signs will be marked in their identifiable colours and the main destinations and interchanges will be listed on the side of the buses.
Transport for London (TfL) claims this will simplify use of the bus network in local areas as passengers will be able to tell, at a glance, where the bus will go.
A trial of the new route branding has begun in East London, centred around Barkingside, where more than 60 red buses have had the branding added to mark seven different routes (128, 150, 167, 169, 247, 275 and 462). Around 75% of the buses allocated to each service have been coloured.
A further trial is planned for the summer in Hayes, in West London. If successful, the new designs could spread to other parts of the capital.
The Mayor of London, Sadiq Khan, said: "It's no secret that London's bus service has always been close to my heart, and I'm working hard to make it as accessible, affordable and easy to use as possible for all.
"By bringing these new distinctive route colours to areas of the network, we're making it as easy to navigate areas of London by bus as it is by Tube. It's another key part in our efforts to encourage Londoners to take to the bus and help us tackle congestion, air pollution and make our city better for everyone."
Leon Daniels, TfL's Managing Director of Surface Transport, said: "We're constantly looking for new and innovative ways to improve our customers' journeys.
"We've redesigned the look of Barkingside's buses and the information we provide to customers.
"We believe this will make bus travel simpler and will encourage more Londoners and visitors to use buses – the Capital's most expansive and accessible public transport service, which also offers excellent value-for-money."