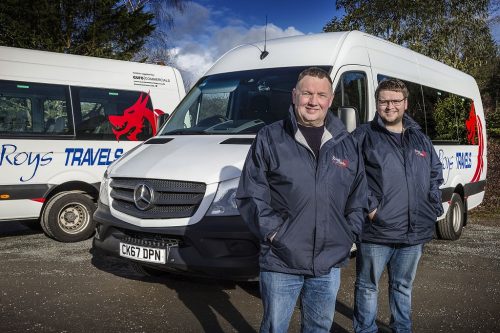 Cardiff-based minibus operator Roy's Travels has taken delivery of a new 16-seater Mercedes-Benz Sprinter.
The latest to enter service with the company is a 514 CDI Tourer with a 136hp engine. Supplied by the city branch of South Wales dealer Euro Commercials, it has a 5.0-tonne gross weight and a factory-built, extra-long body.
Roy's Travels took advantage of funding support from Mercedes-Benz Financial Services to acquire its new minibus, which has replaced one from a different brand. Its arrival means that, for the first time, all three of its vehicles are manufactured by Mercedes-Benz.
The new minibus is now working alongside a 516 CDI Tourer, which was sold by Euro Commercials under the Mercedes-Benz Approved Used banner. Less than a year old at the time, this vehicle had previously been used as a demonstrator by the manufacturer. Completing the trio is a minibus conversion by specialist bodybuilder EVM.
All three Sprinters wear a livery which features the iconic red dragon of Wales alongside the Roy's Travels name. They are air-conditioned and equipped with USB charging points.
"Mercedes-Benz Sprinters have proved themselves to be superbly reliable," said proprietor Roy Mardon. "That's vital in this business – I can't have a vehicle breaking down when, for example, it's taking a party of holiday-makers to the airport to catch a flight.
"We also want our passengers to be as safe and comfortable as possible. Mercedes-Benz safety features such as the Adaptive ESP stability system offer great peace of mind, while our vehicles also have a premium-quality feel and offer an exceptionally smooth ride."
The new vehicle will also be maintained at Euro Commercials' Cardiff branch under a ServiceCare plan. The 24-hour workshop remains open through the night and fits only Mercedes-Benz GenuineParts.
"We receive an excellent service from Euro Commercials," continued Mr Mardon. "I've dealt with its Cardiff team for some years now and nothing is ever too much trouble."
Like all new Mercedes-Benz Vans, Roy's latest Sprinter is backed by a three-year, unlimited mileage warranty and came with MobiloVan cover, which includes free, 24-hour roadside assistance in the event of a breakdown.
"We've never had to call for help but it's nice to know it's there," added Roy. "We also save money, of course, because we don't have to pay for breakdown cover from another provider."