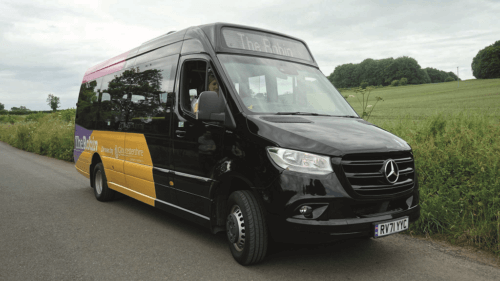 Rural areas in Gloucestershire are to benefit from the launch of a new demand responsive bus service
A bespoke minibus service called The Robin has been launched in the southern area of the Forest of Dean. Launched in two phases, the first part of the scheme started operation on Monday 17 October and was followed by the start of services in an area of the north Cotswolds on 24 October.
The Robin will provide on-demand services to fill a gap where there is no bus provision, complementing existing services. Residents can book journeys via an app or over the phone on the service which will provide a link from bus stops in hamlets or villages to local transport hubs and railway stations, helping to make existing public transport services more accessible.
Services will run daily from 0700 until 1900hrs except for bank holidays. The new demand responsive service will be run by the county council and local bus operators as a two-year pilot project.
Four Mercedes-Benz Sprinter-based EVM Citylines will operate the service, with two allocated to Pulham's Coaches for the North Cotswolds area, and two allocated to Lydney Community Transport for the Forest of Dean area. Software and algorithms are supplied by Padam Mobility.
Councillor Philip Robinson, the Cabinet member responsible for education, skills and bus transport at Gloucestershire County Council, said: "Bus transport is crucial for many people who live in rural areas. This pilot will provide imaginative and much needed support to the bus services we already have across Gloucestershire. It will provide greater choice in transport by helping people get around our rural communities. These brightly coloured, cheerful buses are unmissable and will provide a lifeline to our rural communities."
The Robin has been founded with £1.35 million of funding from the Department for Transport's Rural Mobility Fund.