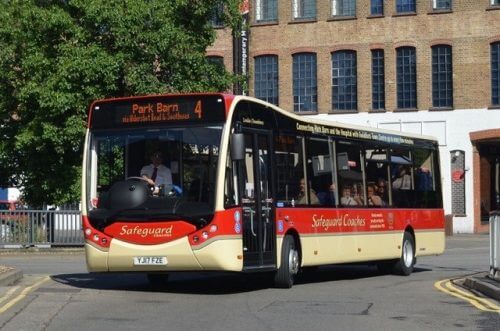 Family-owned Safeguard Coaches of Guildford introduced new bus fares on April 7, 2018, which include a new fare for young people and families.
The 'Kid for a Quid' fare offers a £1 fare for any one way or return journey at any time, with certain short one-way journeys available at 50p. At the same time, the age limit for a child fare will increase to 16 years.
Safeguard has also introduced a young adult ticket with a maximum one-way fare of £1.50 and a £2.50 return journey fare. The age range that this ticket applies to is 17–24 years, and the company claimed that reduced fares on a WiFi-equipped bus, combined with a regular and frequent service, offers a real alternative to the car.
To encourage families to use its buses, Safeguard has introduced a new family day ticket to give families of up to five people the ability to have a day out in Guildford for £7.50. The ticket is valid throughout the day of purchase.
Safeguard Coaches' Managing Director, Andrew Halliday, said: "Research carried out recently to understand the current experiences and views of young bus passengers, and how the bus industry could attract and retain them as the bus users of tomorrow identified that improving value for money, punctuality and reliability are constant priorities.
"The industry – bus operators, local authorities and Government together – need a relentless focus on delivering these basics. Getting the essentials right, alongside a more effective and targeted approach to customer retention, will help build trust and loyalty to make using the bus a viable long-term proposition for young people."