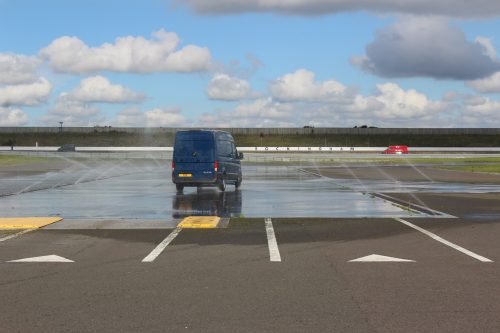 I was very impressed by the new MAN TGE, which I was able to drive at Rockingham Motor Speedway in September. The vehicle was a joy to drive, and the selling point of MAN's aftersales back-up should make it appealing to operators who already run the manufacturer's coaches and buses.
Many of the safety systems which can be specified on the vehicles are excellent and would add a great deal of value. MAN did not just demonstrate the systems, but also instructed attendees on how to properly use them. I think the company should be commended for this.
It's not uncommon to see a long list of safety systems specified on modern day vehicles, but aside from technology like advanced emergency braking, which is designed to work when the driver fails to react, many of them need to be used properly or will provide little-to-no benefit. How many drivers know how to use systems like anti-lock brakes and Electronic Stability Programme (ESP) when the proverbial hits the fan? It's not something that can be easily taught during licence acquisition.
For example, ESP is designed to assist a driver in regaining control of a vehicle in the event that it begins to skid due to loss of control grip at the rear, as well as helping to prevent such an incident from occurring in the first place. However, the instructor at the ride and drive event had no hesitation in saying that the only time a driver would lose control in this way would be due to their own error.
Not only this, but if the driver did not take the appropriate action after a skid occurs, the ESP would not miraculously correct this. With the instructor's guidance, I was able to keep the vehicle going in almost a perfect straight line during the test. Without his instruction, I'm not sure I would have, and other drivers did not have the same success, with some quite dramatic slides occurring on the skid pan. It may have made a great shot for television, but on a public road, the vehicle would have certainly been involved in an accident, whether equipped with ESP or not.
The instructor also said there is still a common myth that equipping a vehicle with anti-lock brakes will reduce its stopping distance. This is absolutely not true – anti-lock brakes are designed to ensure wheels do not lock under intense braking, ensuring the vehicle can still steer around obstacles. A driver who slams on the brakes and does not steer will still crash.
It is clear that the safety systems on the TGE are extremely valuable to include on a minibus, with their cargo of human passengers more valuable than anything likely to be carried in the back of a van. But if drivers are not taught to use them effectively before an incident occurs, this brilliant technology will go to waste.