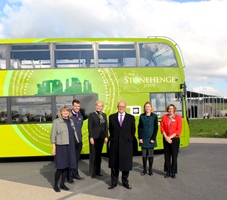 Shuttle bus, which utilises new ADL Enviro400MMCs, offers audio commentary and can include priority entry to the attraction
Go-Ahead-owned Salisbury Reds has launched new shuttle bus services to two of Wiltshire's most famous landmarks.
The operator is offering The Stonehenge Tour – which runs from Salisbury Railway Station and the city centre, through to Stonehenge itself and then onto Old Sarum on the return journey.
The company has invested in new Alexander Dennis Ltd (ADL) Enviro400 MMC buses, equipped with the latest lower emissions Euro 6 engines.
For the first time, passengers also have access to individual headphones, with commentary developed in close consultation with English Heritage and Salisbury Cathedral.
"We are delighted with these new tour buses," said Salisbury Reds Managing Director, Andrew Wickham.
"Customers will have the opportunity to find out more about these historic Wiltshire landmarks, at the same time as travelling in comfort and style.
"And we haven't forgotten about our overseas visitors either. The commentary is available in 10 different languages, making The Stonehenge Tour more accessible than ever.
"It is a sizeable investment for us, but I have no doubt these new buses will be well-received by those enjoying this impressive visitor experience."
Jenny Davies, Head of Operations for English Heritage at Stonehenge, added: "It is great news that the popular Stonehenge Tour Bus is now more environmentally- friendly and that more visitors choosing to travel on the bus will be able to listen to the fantastic commentary in their own language."
Visit Wiltshire Travel Trade and PR Manager, Florence Wallace, said: "We are delighted that Salisbury Reds is focusing on developing its tourism product.
"This is likely to contribute to tourism growth in the county – which in 2015 showed an increase in visitor numbers for the fourth consecutive year.
"Wiltshire's visitor economy is now worth £1.53bn (+4%) per annum and supports over 29,000 jobs."
Marie Thomas from Salisbury Cathedral said: "The Stonehenge-Salisbury Cathedral tour is already very popular and these new developments are good news for all concerned.
"We think the 'narrative as you travel' will encourage even more people to visit both the Cathedral where it stands today and its original home at Old Sarum.
"In support of this new initiative the Cathedral is offering a discount voucher for use in the Refectory restaurant to all visitors who include the Cathedral option in their tour."
In addition to travel, all-in-one tickets for The Stonehenge Tour provide priority entrance to Stonehenge and its visitor centre – as well as the tour and Salisbury Cathedral. Alternatively, passengers can opt to take the bus tour only.